In February 2021, I received my Forcite helmet "Pioneer edition" in the mail. I've had my Forcite helmet now for a long time and used it on a variety of bikes in a range of riding conditions, so I wanted to put down this Forcite helmet review.
Updates since I wrote this review (six months in, September 2021)
I've ridden bikes for another 3000 km (total 5000 km or so)
The Forcite app has been updated, improving its alerting and routing
Forcite sent me thicker cheek pads which improved fit
Forcite is selling a "speaker relocation kit" which I haven't bought
The helmet has fallen apart slightly and needs to be re-assembled somewhat every time I take it off
Details on all this below.
The "Pioneer" edition of the Forcite helmet was the second round of sales after the first "Founders" edition. The Pioneer was offered at a slightly lower price (than future retail), and includes a bunch of extras, plus the promise of active support, updates, and of cheaper future Forcite helmets.
Being a somewhat early adopter — and needing a newer helmet this year anyway (my five-year-old Shoei RF1200 was looking a little rough around the edges), I bit the bullet. After all, Forcite is an Australian company, and I'm an Australian person. Represent!
While everyone "ummed" and "ahhed" about riding in the rain, the heat, or the traffic, I plonked on my helmet, hooked up the apps, upgraded my phone (see below), and went off on a few rides.
Here is my detailed Forcite helmet review after putting about 5,000 km on it in a range of conditions, using three different bikes.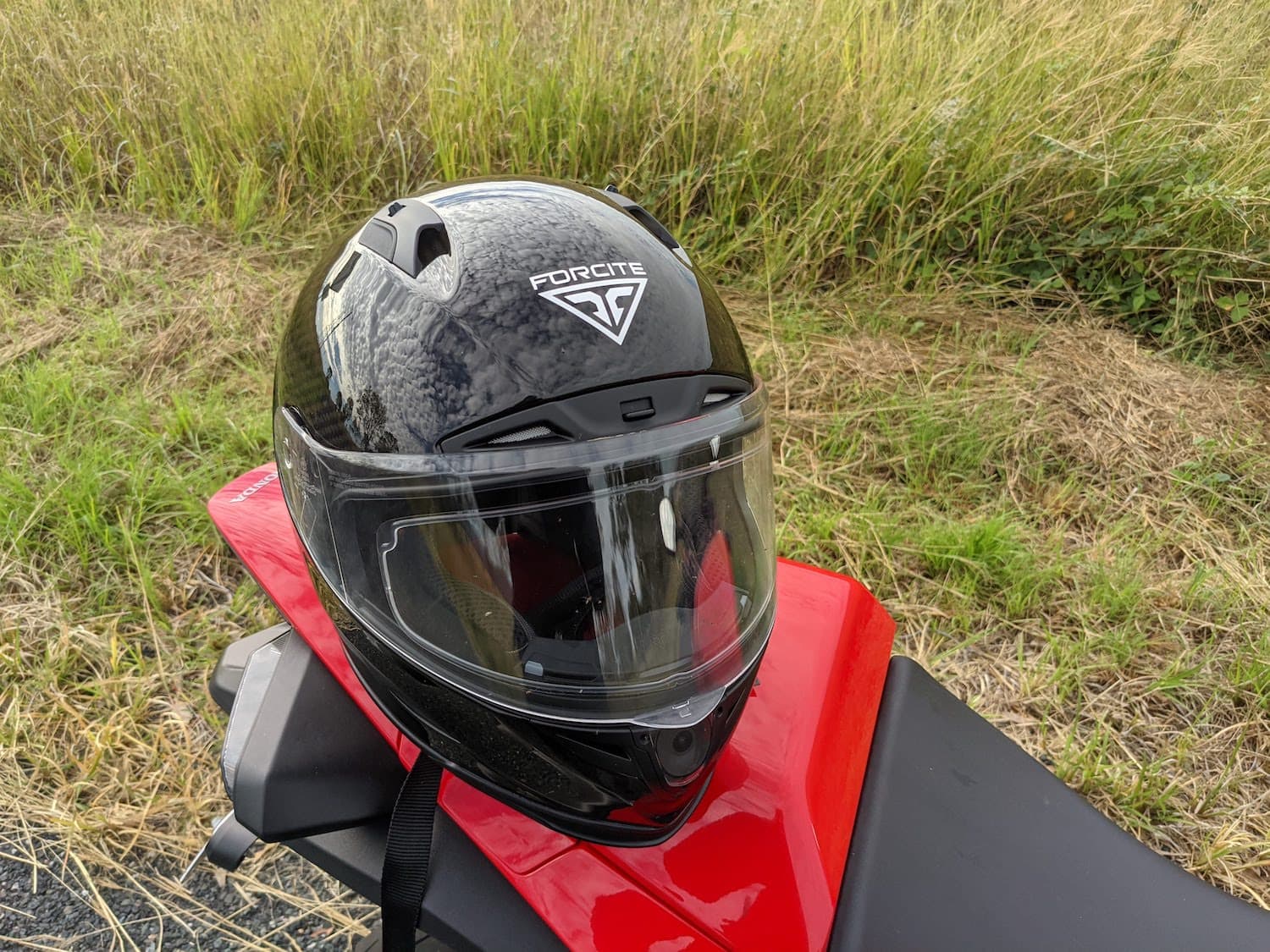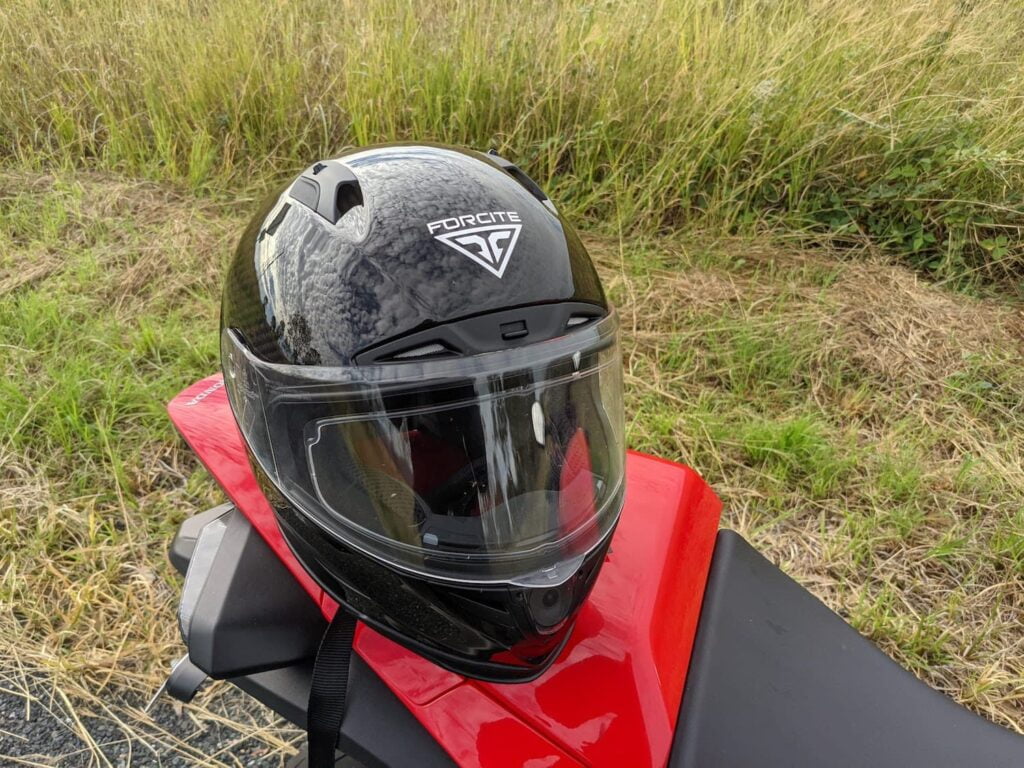 Are you obsessed with motorcycles?
Well, I am. That's why I created this site — as an outlet. I love learning and sharing what others might find useful. If you like what you read here, and you're a fraction as obsessed as I am, you might like to know when I've published more. (Check the latest for an idea of what you'll see.)
My Forcite Helmet Review — In a Nutshell
| Pros | Cons |
| --- | --- |
| Attractive, lightweight helmet | … But it is noisy for most people who use it (especially for a premium helmet) |
| High quality materials (carbon fibre) | … But the assembly comes apart slightly quite often, and I can never get the cheek pads to sit in securely. |
| Built-in camera means no awkward external parts | … But the image is slightly blurry compared with a GoPro, and isn't stabilised. |
| External controller means you don't have to use your phone… | … But the controller often loses sync with the app, rendering it useless, meaning you can't stop a video, take calls, etc. |
| High tech… | … But a high failure rate. |
| Great customer service from a dedicated team | … because it's definitely a helmet that's heavily in beta, and you'll participate in the testing. |
Forcite helmet pros and cons
My primary review is: Get the Forcite helmet if you're an early adopter, or paying beta tester, who isn't expecting something perfect. For everyone else who wants to pay A$1100 (about US$900) for something and expects everything promised to work — this isn't for you.
I rode through traffic, on hot days, and on cooler rainy days, using four motorcycles — a Honda VFR800FE, a Suzuki GSX1300R Hayabusa, a Honda CBR600F4i, and currently a BMW R nineT (I think this is it for a while).
In general, the Forcite helmet is a good quality carbon fibre helmet. It's comfortable, but not plush. Mechanically it's well-built, but not like the highest grade helmets where things snap beautifully into place. And the electronics are good, but have bugs, and you have to be patient and assume the Forcite team is working on it.
Because the Forcite team is so actively developing the product, they respond to customer feedback pretty actively. However, if you submit a bug request, you can expect weeks for them to be able to get back to you unless it's an established issue for which they have an answer. You might get lucky and get a quicker response, but often I have to remind them.
Basically — the Forcite helmet is a work in progress. Join the process and buy one if you're keen to be part of group testing R&D.
Updates since I received the helmet
As I mention in this review, this helmet was an unfinished product when I received it, but I like it because the team keeps making improvements. Here's what's happened and what's in the pipeline (updated as of… now, anyway)
Thicker cheek pads — I wrote to them and complained about the noise and the Forcite team sent thicker cheek pads. Stock is 20mm. They sent me 25mm and 30mm. I used the 30mm ones and, combined with my Earmold earplugs, the wind noise is now tolerable and I can still hear the speakers clearly (up to about 60 km/h anyway).
Charging cable lesson learned — I realised the Forcite doesn't work with any random USB-C charging cable. You have to use the one supplied for it to charge. It might work with a few others, but it didn't with mine (from Apple laptops and Google Pixel phones).
There are also a number of forthcoming updates I'm excited about.
Better speakers — in April they announced they're working on better speakers and are testing them. Hopefully they'll ship them out free to existing customers. The ones I received are tinny.
Dashcam software update — This is longer pole, but the Forcite team said that they will change the recording function so it "loops", deleting the oldest ride video automatically. This will prevent inscrutable errors (right now when the card is full it simply tells you it "Attempt to start helmet recording timed out. Please try again".
Softer foam — The helmet is comfortable, but not plush. The team has announced they're working on better padding and I'd look forward to that.
What is the Forcite helmet?
Let me describe what the Forcite helmet is first before reminding myself what the marketing spiel is. Here's what it is to me, a consumer.
The Forcite helmet is an integrated helmet that has a camera in the front and speakers built-in. It pairs with an app on your phone. There's also a controller that pairs with your app on the phone. When they're all paired correctly, you can use the button controller to 1. start/stop recording, 2. hear navigation instructions, 3. take/end calls, and 4. say "hey Google" stuff to your phone.
The helmet is also a lightweight and attractive helmet, made of high-tech materials like carbon fibre. It looks pretty good! It's a street/race-oriented full-face helmet with an inbuilt sun visor you can flip down.
OK, that's what my Forcite helmet is to me. But what is it according to the website?
…I actually found it a little hard to figure out exactly what the Forcite helmet is. There's no pithy summary. The first page says you can "Take calls, listen to music, talk to fellow riders, and receive audio alerts with Bluetooth/HiFi integrated speakers, and Omni-directional dual microphones." Further down, it says you can "relive the past" and that the "fully integrated front-mounted camera delivers a high definition recording that can be downloaded and replayed."
So in summary, the Forcite helmet is an AV-equipped helmet that can give you alerts.
In reality, there's more to the helmet than the helmet. For the alerts to work, it has to be paired with your phone, working with the Forcite app.
When you're riding with a route planned in the Forcite app, it gives you alerts about hazards on the road (which usually has been road maintenance on the side of the road), or speeding/red light cameras.
When you're not using the app for routing but the app is still on, the app will give you alerts but they could be for other roads that you're not on – it doesn't know which direction you're going in.
About the Forcite company and customer support
One thing I should mention before anything else in detail is that Forcite is an early-stage company. This means two main things: 1. the product can seem sometimes a little work-in-progress and 2. the founders often are willing to help out directly with any problems you might have.
It's part of the frustration and joy of buying an early-stage product from a young company. Sometimes they might miss an email, but then they reply and go to great lengths to make you happy — sending free stuff, offering to diagnose issues/faults further, and generally being very responsive. It's expensive and unsustainable for them, but I'm sure that cost will be absorbed by later products that the company releases.
Forcite was founded by two Australians in 2016. Its headquarters are in Sydney. Alfred Boyagdis, a motorcyclist, wanted a safer helmet, and teamed up with an industrial designer Julian Chow to build a new, better helmet, with in-built monitoring systems.
So far there have been 1000 "Foundation" helmets sold and 300 "Pioneer" packages sold. Most people who have bought the helmets know that they were buying a work-in-progress product, and have been flexible. Some have been unhappy and haven't gotten the helmet to be comfortable or practical no matter what they've tried, and have returned it or on-sold it for a small loss (usually with ease, unlike with any other helmet where you basically have to give it away).
There's a fairly active Facebook group in which enthusiastic users either sing the praises of the helmet, complain about something, or share videos from their rides. When users complain, other users give helpful advice. The founders often step in in something really seems awry. (I don't know how they have time to manage a Facebook group — I'm sure they'll hire a community manager at some point.)
While the customer support is nice because it's direct with the programmers and designers, sometimes it takes a long time for them to respond to tickets and I have to send them reminders. I think they have many things in motion (app updates, new model design), and my guess (having been involved in a lot of small startups) is that they're caught between many competing priorities.
The last thing to point out is that like with any small company, there is a chance that Forcite will go belly up or completely change shape. It might go bankrupt, it might get acquired, or it might start producing totally different things. They might accidentally under-invest in customer support, or issue a recall for their products. You have to be comfortable with how these things can go if you buy a Forcite helmet. It's NOT a mainstream product yet.
But if you're flexible, then it can be a wonderful experience… or a step towards one.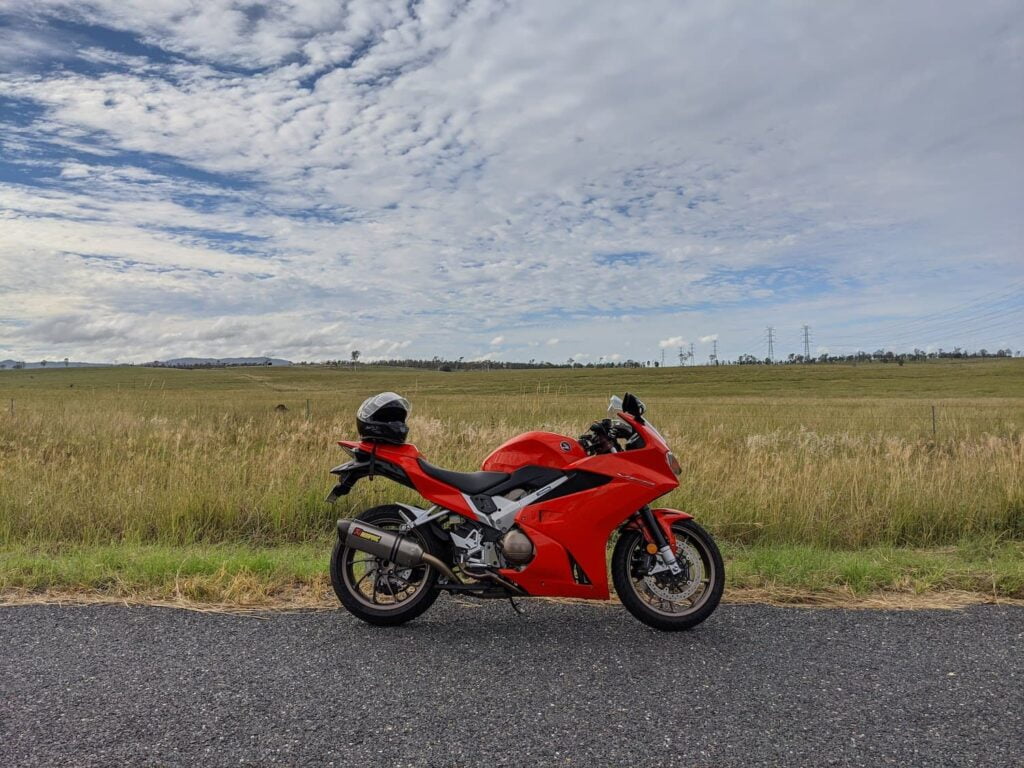 Setting up the Forcite helmet
Setting up the Forcite helmet was surprisingly tricky (and you can tell I'm handy from many of the maintenance articles on this site… also from the fact that I build websites, and have written apps, worked in startups, etc.).
For one thing, I couldn't figure out where the "on" button for the helmet was! I had to look at a video demonstration (which was of something else, but they had to turn it on to do those things). (The Forcite helmet's "on" button is under the chin guard, right at the front on the inside, and not visible from the outside except at a certain angle.)
Once I figured out where the on button is, I had to figure out a few other things on my own, including a) how to install the anti-fog shield (which isn't a pin-lock visor, I was reminded), and b) how to install the tank-mounted controller holder.
For the anti-fog shield, I looked up how to do it on other helmets, and made up my own methodology to get it centred and to install it without bubbles. I did the following:
I marked the centre using whiteboard marker on the outside of the helmet (in a place where I'd wipe it off)
Removed the protection from the "sticky" side of the shield
Bent the shield backwards so that only the middle made contact with the middle of the visor, and then
Rolled it out left and right, quickly pushing it flat with a credit card.
I don't know if that process of installing the anti-fog was right, but it worked. Others said they were glad that the helmet came with two anti-fog shields as they messed it up the first time.
For the tank-mounted controller, I just removed the label over the adhesive, and put it down somewhere on the tank. I don't know how to remove it, or how to re-adhere it somewhere else.
Looking at the three brief leaflets that came with the helmet, I did find a diagram showing many buttons — but no explanation of where the on-button was. Later, I found another leaflet that showed where the on button was. I just didn't expect to find it on another diagram, since it was missing from the first one (why would there be two, different diagrams?).
So yes, setting up the Forcite helmet definitely needs a better explainer video and documentation.
The Forcite helmet's app (Navigation and alerts)
Sep 2021: I will update this section soon with screenshots and description of the new app. My bike is getting some very expensive repair work done to it. 🙁
To use the Forcite helmet's smart features, you have to pair it with your phone, and launch the app.
The Forcite app IS quite beautiful. Here are some shots of it.
To me, the Forcite helmet's app is almost useless at its current state in early 2021. Here's why.
The navigation in the app is not as good as the competition by a long shot. I'm sorry, app designers, but your competition here is fierce. For now, Forcite is using MapBox, and probably navigation from another non-Google vendor. I know Google Maps' licensing is expensive and this is probably why they're not using it, but the result is that the routes are often very zig-zaggy, and the GPS is often so confused. Often, I will be driving along a single road with no turn-offs and suddenly the helmet will announce (multiple times) "Rerouting". What?? I used it for about 50km then switched to Waze.
The alerts are not useful (see below). It doesn't tell me about all speeding cameras, and telling me about road works isn't that useful (I already know, I can see it). I turned these off too.
The app often loses pairing with the controller. The app's last function is to let me use the controller to control the helmet. Unfortunately, it loses connection with my phone (and I tried two phones). This renders the controller useless.
For navigation, I'm using Waze now. The routing is better, the alerts are more useful. I periodically check the Forcite app and note the cool new features.
One feature I appreciate from the app is the ability to format the SD card. As I use automatic recording, the card fills up quickly! I hope in the future we'll be able to review the footage via the app and to delete files selectively.
And since I can't control the A/V functions, this makes my helmet just the same as a mid-range carbon fibre helmet with an integrated speaker and camera, that I have to control with the phone.
Comfort
The Forcite is roughly as comfortable as a mid-range HJC helmet. It's not as comfortable as my best Shoei helmet or others that I've tried in stores.
From my opinion and those of many others in the Facebook group, here's what I can safely say is a "group review" of the comfort level of the helmet.
The Forcite helmet is definitely light. I've never had a carbon fibre helmet before, but this is much lighter than most helmets. It almost felt too light, like it's flimsy! However, since the helmet has passed safety standards and because I trust the team (having seen them, knowing people who know them, and having faces to names) not to have built me a cheap helmet, I know it's because of high-quality lightweight materials.
The Forcite helmet's padding is a little coarse. If you've worn a premium helmet (even if you've tried one on in a store), you know that the padding of a high-end helmet is plush. It's like the difference between a hotel room sofa and a high-end sofa, or the difference between sitting on leather seats in a luxury car or the basic cloth seats of a low-end car.
Sizing is a bit hit-and-miss. This is to be expected as everyone's head shape is difference and you can't try the Forcite helmet on in a store, as they're a small business with direct distribution.
The good news for those who think the Forcite helmet is uncomfortable is that the developers work very actively with buyers to send them new padding to make sure the sizing is tweaked, and are developing more comfortable padding that will replace the coarse one (though I'm not sure if it'll be sent free to everyone). They sent me some new padding and I'm looking forward to trying it out — I've heard good results from others.
The Visor
There are a couple of frequently-asked questions in the forum about the Forcite helmet's visor.
One is
Will there be pinlock support?
Will there be a photosensitive visor, like the Shoei "Transitions" visor?
That reflects the current state of the helmet's visor quite well. The visor is good quality, sturdy and optically pure. It doesn't scratch easily (not that I've tried, but also I haven't experienced any accidental scratching).
But currently instead of a pinlock, it has an anti-fog shield. This is fine, but I can see its edges when I'm riding. See the photo at the top of this article.
Secondly, there's no "Transitions" visor equivalent for the Forcite helmet. This is understandable… barely any brands offer photosensitive visors. The Forcite helmet does have a flip-down sun shield. It's VERY effective. So much so that I don't use it unless I'm staring straight into the sun.
Basically the visor situation is good, but not amazing in any way. I'll wait to see if they offer pinlock support later.
The only time the helmet seemed uncomfortable in its sun protection was when I was riding directly towards a setting or rising sun. But that's not something my expensive Shoei helmet could deal with either.
Noise levels
Another common complaint (on the forums from other risers) about the Forcite helmet is that it's noisy. Firstly this is common with carbon fibre helmets, which I haven't used before.
I usually wear custom Earmold earplugs when I ride. I did try the Forcite helmet without earplugs and found it unbearably noisy on my motorcycles (currently two, a sportbike and a sport-touring bike) above 60 km/h. This was a little disappointing, as a helmet is supposed to go a long way towards attenuating wind noise.
Again, the Forcite team was responsive to this complaint. They immediately sent me out a few different cheek padding sizes to try on in the helmet. I put in the 30mm check pads and while it was pretty snug, the noise level was a lot lower than before. The 25mm pads fit me better, but I prefer the snugger fit — low noise is more important to me than mild discomfort.
So if you're worried about noise, get thicker cheek pads, but bear in mind that carbon fibre helmets are always noisier.
Forcite communications between riders
I wouldn't recommend the Forcite as a communications helmet (for comms between riders) for two reasons.
It isn't compatible (yet, but not sure if it'll ever be) with Sena or any other of the major networks. It's so far only compatible with other Forcite helmets, and I don't know any others.
You have to have cell service to use it the communications system. I often ride in the country (I think I'm not alone in this) where the signal is spotty.
Honestly until those two things are rectified, if you like to talk to people with whom you're in a group, give the Forcite a miss for now. Unless you form a group of Forcite-helmet owners! I don't know any other riders with Forcite helmets right now.
Some people modify their Forcite helmet to add a Sena communications pack (which can cost $250-500 depending on the model you choose), removing the in-built speakers, and also connecting the Shoei communication device to the Forcite app for alerts. I didn't do this. I'd rather just buy a Shoei helmet with speakers built in. (And I don't like the alerts anyway.)
Smart features (alerts)
In summary, the alerts only work during navigation, which is not good, and far worse than Waze or Google Maps. On top of that, Waze alerts are better. So I use Waze.
The smart features are the biggest let-down for me of the Forcite helmet. Some of these can be resolved by software, but some can't.
Some early (not current) descriptions of the Forcite helmet are that it's a "smart helmet". I can't state this enough: this is NOT a "smart helmet" as you'd expect. There's no HUD, for example. Nor are there any specific features that might improve safety, like proximity or tilt sensors.
The smart features of the Forcite helmet are related to the app. In fact, they're entirely in the app. You don't need to use the helmet and can get the same features on any other headset with a built-in speaker set.
But aside from that, in the Forcite helmet, there
There is no HUD (or in fact any display)
There is nothing intelligent connected to the rest of the bike
The smartest thing that the helmet offers is "alerts". These are alerts that things lie ahead like changed traffic conditions, speeding cameras, or road works.
But the downside is that you can only get these alerts reliably while using the Forcite navigation system, which is terrible. I mentioned this above. It looks really nice. But the reality of using the Forcite navigation system is that I get sent along circuitous routes to ordinary places. I'm not sure if it's over-optimised for arrival time or motorcycle-friendliness. But given that my phone is in my pocket, the number of audio instructions quickly became overwhelming.
On top of that, I'd often get alerts that "route changed" while driving along a road with no turnoffs. I don't know if it was changed traffic conditions ahead or whatever, but it was distracting.
Anyway, I don't use the navigation system as a result of it being inferior to Waze, Google Maps, or even Apple Maps when I've seen that used.
As a result, the alerts function more like a proximity sensor. If there are roadworks within 500m, then it'll tell me. It doesn't matter if they're on an adjacent road, or even just on some road I can't get to that's within that radius, it tells me. This isn't useful, so I don't use the alerts at all.
Because Waze has better navigation and more useful alerts (I think Waze tells me about more speeding cameras), I just use Waze with my helmet.
Reliability of the electronics
If you have any experience with electronics — especially those with Bluetooth — you'll known how important it is to be able to just press a button and for it to do something predictable every time.
The Forcite helmet is not in this category. It's not reliable yet.
I mention some of this in the other sections, but in general the helmet doesn't behave predictably. For example:
Sometimes I go to switch the helmet on, and it doesn't stay on, for an unknown reason (not low battery)
The helmet loses pairing with the phone, and it needs to be reset and re-paired
Those are the main two things. Both of those types of instances mean that I am standing around in my full gear, getting warmer, and getting frustrated as I try to remember how to reset the helmet then re-pair it with the app. Each time, I lose a little confidence that it's going to work again.
Sometimes it's just that the errors
There are times I've gone out for rides, unable to record anything, and missed major notable events, like an SUV blasting through a red light, well above the speed limit (maybe it was law enforcement… but given it was public holiday, I think it was just a crazy driver). I hate it when I miss this stuff and I hope I can get the helmet working reliably soon.
Controls
The controls of the helmet were one other thing I was interested in. Unfortunately, they didn't work well on my model, and it has to be sent back for testing.
I have been using a Sena 20S with my Shoei RF-1200 for a long time. The audio is fine and the battery life is great. But the one things I don't like is the controls. I seem to always forget how to pair it to my phone (and I have to repair it sometimes), I always forget how to connect to other riders, and I really don't like using my left hand to reach up to my helmet to press the button to do anything.
This used to really bother me, and I longed for a handlebar control system. I'd have bought one except the Forcite looked more interesting.
In theory, the Forcite button system looks well laid out. Three really useful buttons — one to take calls, one to start and stop video, and one to engage with the phone (e.g. using Google Assistant).
Unfortunately in reality I haven't really found the button system useful yet.
Here's what I don't like about it, in rough order.
Primarily, it loses pairing with my app. I think this is because of my app crashing. The result of this is that I can start a video at the beginning of a ride, but then I can never stop it without coming to a stop and using the controls on my phone. When I open the phone app, it says "controller connection lost… controller connection found". Along the ride, I can't use the other buttons after the connection is lost. (For the record, I use a latest-generation Google Pixel 5 with tons of memory, and I also had the same problems on an earlier Android.)
Secondly, the placement of the controller isn't much more convenient than the helmet button. I still have to take my hand off the handlebars. I'd rather it was within reach of my thumb, like my other buttons.
Finally, I can't really remember which button does what. It's sleek and black looking and impossible to see while riding. Some colourful images would be ugly but practical!
Contacting customer support, they suggested that I re-install the app.
After re-installing the app and getting the helmet back from Forcite (who didn't find any faults), I still can't connect to it in any reliable way.
Video recording
One of my favourite features of the Forcite helmet is the fact that it has an in-built video recorder.
This means that I can
Have ride footage in case something untoward happens (e.g. I'm in an accident and I have to prove the other person was at fault)
Become a bike vlogger (which I won't. I don't enjoy vlogs. Just let me hear the bike!)
I tried the recording feature out. The video quality is OK, but not as good as a GoPro. The image is slightly smudged in the corners, and it's shaky (the camera is not stabilised). Ultimately it's not footage I'd ever upload to YouTube, as it doesn't anywhere near meet the standard set by other recording devices. But it's good enough as a safety device, and that's primarily how I'll use it.
Here's a sample of the video footage.
One thing that's interesting is that the microphone is inside the helmet and so is well shielded, so the sounds you hear from the video recording are quite similar to what I hear when riding the motorcycle (other than the wind in my ears).
It's a little frustrating that I can't use the controls to predictably control the video recording. But video recording with an integrated camera is a killer feature I don't want to give up.
Audio
The audio of the Forcite helmet from the speakers is fine, but it's tinny.
Some people report speakers being in the wrong place. Apparently heads aren't all the same shape! They re-positioned their speakers and all is fine.
In general, I don't find the audio quality to be as good as from my Shoei 20S speakers. Why, I'm not sure. Forcite says they're aware of the issue and they're considering replacing the drivers (the speakers) for new ones at some point.
The volume of the audio is definitely loud "enough". I can hear music at 80-100 km/h, even with my headphones in. It's not quite as loud as my Shoei, but some other factors might be responsible, e.g. the helmet being louder in general.
I haven't made phone calls from it. But people in the forums say that they can make phone calls up to 60 km/h without trouble. Beyond that, and it's hard to hear the person you're speaking to. This might be different with quieter motorcycles with more extensive wind protection.
Summary — Will I keep the Forcite helmet?
Yes, I'll keep it.
The above, on re-reading it, is a scathing review. So much stuff related to the apps and comms doesn't work.
The only things that are really good about the Forcite helmet it are that
It has in-built video and audio
It will get very detailed support, frequent updates, and lots of attention from the development/founding team
It is a lightweight carbon fibre helmet
It looks good
Those things alone, for me, mean it was worth the $1100 sticker price (it was a bit more than that, but I got a couple of extras).
I'm pretty confident that the development team will work out the kinks. I expect the software to improve and the hardware to evolve. When softer pads and better speakers come out, and if the hardware ever becomes compatible with Sena communications systems, then it'll have been worth the wait — and in the meantime, I'll have recorded a lot of videos of people cutting me off on freeways.