This is a series of resources on the 2023 KTM 890 SMT, the adventure sport touring motorcycle from KTM with supermoto branding and pretensions.
KTM launched the 890 SMT in 2023 for the same model year. It's an adventure sport touring motorcycle, much in the same vein as other sport motorcycles with upright, comfortable riding positions and some wind protection, like the Yamaha Tracer 9, for example.
Like the other 890 motorcycles, the KTM 890 SMT is based around an 889 cc liquid-cooled parallel twin. It's a fire-breathing, characterful engine, that makes at peak 77 kW (105 hp) at 8000 rpm, with peak torque of 100 Nm (74 lb-ft) at 6000 rpm. Final drive is via six-speed transmission and chain
This resources page is to help current and prospective motorcycle owners (including me!) get a comprehensive view of the 890 SMT. Below you can find information on the maintenance schedule and service intervals, as well as parts you need for a standard service, guidelines for basic services like oil changes, drivetrain maintenance, and whatever torque specs are easily accessible.
Note: Motofomo is reader-supported. If you buy some of the products that we link to, we may earn an affiliate commission, which otherwise goes to the marketplace (e.g. Amazon).
Are you obsessed with motorcycles?
Well, I am. That's why I created this site — as an outlet. I love learning and sharing what others might find useful. If you like what you read here, and you're a fraction as obsessed as I am, you might like to know when I've published more. (Check the latest for an idea of what you'll see.)
About the KTM 890 SMT
The KTM 890 SMT is a re-introduction of the SMT — "SuperMoto Tourer" — product line. It's a nexus of the "Supermoto" concept — dirt bike-like riding position, modest power, street tires, and light weight — and middleweight sport touring, for motorcycles much like the Yamaha Tracer 9.
While people might be offended by that comparison, they have more alike than they don't. Because supermotos were, at their core, something much more elemental than "big" supermoto-style motorcycles have become: They're usually small cylinder capacity, single-cylinder bikes with no aids at all on them. Essentially, supermotos (or supermotards) have always been dirt bikes with street tires.
But the SMT is much more closely aligned with middleweight sport tourers. Sure, it might have a lively engine — the KTM 890 parallel-twin is pretty well-loved — but that's just what gives it its advantage and differentiation. Maybe that's enough to call it a supermoto… after all, it is a supermoto "tourer".
OK, enough about definitions. What is it? Think of the KTM 890 SMT as essentially a KTM 890 Adventure with street tires and more comfort. The 890 Adventure isn't uncomfortable. Nor is it unable to be ridden on the street. But if you're used to diving deep into corners at high speeds, there's a certain point at which a 21-inch front wheel and mixed-use tires starts to feel a little… disconcerting, even though it probably still has grip left for days.
That's where the SMT comes in. It has 17-inch front wheels front and rear, with a 3.5-inch and 5.5-inch rim respectively on each. The stock tire sizes are the same as every other middleweight sport bike for the last decade, with a 120/70-17 on the front and a 180/55-17 on the rear. This gives a huge amount of tire choices, too.
The suspension on the SMT is middle-spec, with not a huge range of adjustability, but likely everything a tourer would need. KTM uses their in-house WP APEX suspension on both sides. There's also 180mm of travel on each side. If the KTM 890 Adventure didn't exist, people might have even put dual-sport tires on the SMT and called it a day.
The KTM 890 SMT comes otherwise with a whole bunch of tech — some of which has to be enabled through electronic package options, of course — that puts it near the top of its range. Standard, it comes with ride modes and an IMU that governs both ABS and TC. You can also upgrade to add cruise control, a quickshifter (two-way), and "Motor Slip Regulation", which helps with low-grip situations and with fast downshifts.
There's optionally also a "track mode", if you feel like taking your tourer to the circuit!
In all, the KTM 890 SMT tries to strike a balance. It's ideal for people who like the tight curves, but acknowledge that 80% (or more) of any ride is getting to and from the destination. Maybe the only thing extra it'd benefit from would be a taller shield to make that journey more comfortable. Oh, also, I'd probably go for optional heated grips!
KTM 890 SMT Specifications
Here are the core specifications for the KTM 890 SMT, along with some notes.
Item
Specs
Notes
Engine type
Parallel twin DOHC, 4 valve
These are all the rage
Capacity
889 cc
Bore x stroke (mm)
90.7 x 68.8 mm
Compression ratio
13.5:1
Peak power
77 kW / 105 hp @ 8000 rpm
Modest, but enough
Peak torque
100 Nm / 74 lb-ft @ 6500 rpm
Transmission / Final drive
6 speed, chain
Front suspension
WP Apex suspension, Compression / Rebound damping, 180mm travel
Mid-spec. Will we see an SMT R?
Rear suspension
WP Alex monoshock, preload and rebound damping adjustable, 180 mm travel
Ditto
Front brakes
2 x 320 mm discs, radially mounted 4-piston calipers
Tank capacity
15.8 L / 4.2 US Ga / 3.5 UK Ga
Wet weight
194 kg / 428 lb
Classic KTM — Very light for a bike this class.
Tracer 9: 212 kg
Multistrada V2 S: 225 kg
Ride aids
Cornering ABS / TC, Ride modes
These are optional: Cruise control, quickshifter (2-way), and MSR (motor slip regulation). Software add-ons.
Other bikes with same motor
890 Duke
890 Adventure / R
This is why you can't just say "I have a KTM 890". Need more info (unless it's obvious)
KTM 890 SMT Specs
Using the KTM 890 SMT's Screen and Controls
So you're taking a KTM 890 SMT out for a test ride, are you?
Whenever taking out a motorcycle, I like to assess its core features, as well as those I'll use on regular rides. This always includes things like
Trying different modes (ride modes, suspension settings, ABS/TC settings)
Using the cruise control (radar-enabled, if it has one… this one doesn't)
Adjusting the suspension if need be to give it a fair shake
Using the quickshifter (if it's on there)
When testing a new KTM 890 SMT, it's likely to come with the kitchen sink. This is because new KTMs have a "demo mode" that has everything enabled for the first 1500 km / 930 mi. After that, you have to cough up money.
Anyway, here's a quick overview of features on the 890 SMT.
Controls
Everything on the KTM 890 SMT is controlled by a switch block on the left, and the cruise control tip switch above it.
Changing ride modes
There are three ride modes stock on the KTM 890 SMT, with one more optional (Track mode). The three core modes are street, rain, and sport.
To change ride modes, you have to use the switch block. Do this with the motorcycle at a standstill.
Press the set button to get into the menu.
Press up/down until "Motorcycle" is highlighted. Press set.
Press up/down" until "Ride mode" is highlighted. Press set.
Press up/down to choose the riding mode. Press set
That might seem cumbersome, but you can also set up your own bike (once you have one) so that one of the up/down buttons directly access one part of the settings. This is done via the "quick selector" setting. Quick selector can control ride mode, MTC setting, trip, or heated grips setting (maybe other things depending on your option level).
Here's how the ride modes work on the 890 SMT:
Mode
Rain
Street
Sport
Track
(Optional)
Power
Reduced
Full
Full
Full
Throttle response
Soft
Balanced
Aggressive
Very Direct / Configurable
ABS
Both wheels
Both wheels
Front wheel only
Configurable (ABS submenu)
TC
Very little rear wheel slip
Normal rear wheel slip
High rear wheel slip
Configurable (TC submenu)
Power modes on the KTM 890 SMT
Cruise Control on the 890 SMT
Cruise is optional on the 890 SMT. Before rolling out, if you want to test it, make sure it's enabled in the software. This means that (if it's not new, and thus with demo modes available) it should be a purchased add-on, and also it should be enabled in the menus (as should demo modes).
To turn cruise control on, you press the cruise control tip switch to the left. Same action to turn it off. (The status will display on the screen.)
To activate cruise at the current speed, press the cruise control tip switch briefly at the bottom.
To increase or decrease speeds, you either briefly toggle up or down for a 1 km/h / mph increase, or hold it up and down for a 5 km/h / mph increase.
There are some aspects of using cruise, but the above should have you covered.
Adjusting the KTM 890 SMT's Suspension
The front suspension on the KTM 890 SMT is configurable for compression damping and rebound damping, and the rear suspension is configurable for rebound damping and spring preload.
To configure preload, use the hand adjuster. Turn it counter clockwise as far as it will go. For most use cases ("comfort", "standard" or "sport"), KTM suggests adjusting the preload 3 turns clockwise. A full payload is 11 turns.
To configure damping (compression damping and rebound damping on the fork, and rebound damping on the shock), do the following:
Suspension component
Damping type
Location
Fork
Compression
Top of left fork leg
Fork
Rebound damping
Top of right fork leg
Shock
Compression damping
Bottom of shock, on right
Screwdriver required
Adjusters for KTM 890 SMT suspension
For each of these adjusters, turn them clockwise as far as they will go.
Then, back them out per the following table. It's the same for all three damping adjusters. The adjustment of 15 clicks would be suitable for a wide variety of test-riders.
Response type
Adjustment
(counter-clockwise from zero)
Comfort
22 clicks
Standard
15 clicks
Sport
5 clicks
Full payload
15 clicks
KTM 890 SMT damping settings
KTM 890 SMT Service requirements
Overall, the KTM 890 SMT, like other KTM 890 motorcycles, has 9300 mile / 15000 km service intervals. At every service, change the oil and filter, and do a host of checks.
The major service for the 890 SMT is every 18600 miles or 30000 km, at which point you check the valve clearances and change the spark plugs.
The 890 SMT has a cable clutch, which means that you should service it regularly. However, you only need to change the brake fluid and don't need to worry about clutch fluid.
KTM recommends changing the coolant every four years.
Finally, as the 890 Adventure has a chain drive, you need to regularly service it, particularly when riding in dust and wet.
Maintenance Schedule for the KTM 890 SMT
Below is the maintenance schedule for the KTM 890 Adventure, adapted from the manual, and simplified somewhat.
We restructured this slightly into a "service schedule" and a checklist of items to do at every service.
Service schedule
Notes:
Maintenance schedule intervals for the 890 Adventure are 15000 km (9300 mi), with a major service (valve service & new plugs) every two intervals.
After the end of the service schedule, keep repeating it in this pattern.
| miles x 1000 | 0.62 | 9.3 | 18.6 | |
| --- | --- | --- | --- | --- |
| km x 1000 | 1 | 15 | 30 | Every |
| Standard inspection checklist (see below) — Check all items. | ✓ | ✓ | ✓ | Year |
| Change the engine oil. (Motul 7100 10W-50) | ✓ | ✓ | ✓ | Year |
| Change the oil filter (KN-650) | ✓ | ✓ | ✓ | Year |
| Clean the oil screens | ✓ | ✓ | ✓ | Year |
| Change the air filter, clean the air filter box. | | ✓ | ✓ | |
| Change the spark plugs (LMAR9AI-10) | | | ✓ | |
| Check the valve clearances. | | | ✓ | |
| Change the front brake fluid (Motorex DOT 5.1). | | | | 2 years |
| Change the rear brake fluid (Motorex DOT 5.1). | | | | 2 years |
| Change the coolant (Motorex Coolant M3.0) | | | | 4 years |
| Check the headlight setting | ✓ | ✓ | ✓ | |
| Check the fork bearing for play | | ✓ | ✓ | |
| Clean the dust boots of the fork legs | | ✓ | ✓ | |
| Check the wheel bearing for play | | ✓ | ✓ | |
| Check the cables for damage and routing without kinks | | ✓ | ✓ | Year |
| Check the fuel pressure. | | ✓ | ✓ | Year |
| Check the frame | | | ✓ | |
| Check the link fork | | | ✓ | |
KTM 890 SMT Maintenance Schedule
Standard inspection checklist
Below is the standard checklist of items to do at every service.
KTM 890 SMT Standard Inspection Checklist
[Dealer] Read out the trouble code memory using the KTM diagnostics tool.
[Dealer] Program the shift shaft sensor.
Check that the electrical system is functioning properly.
Check that the front brake linings are secured.
Check that the rear brake linings are secured.
Check the brake discs.
Check the brake lines for damage and leakage
Check the front brake fluid level.
Check the rear brake fluid level.
Check the free travel of the clutch lever
Check the free travel of the foot brake lever
Check the chain tension
See below for guidance)
Check all hoses (fuel, coolant, bleeder, drainage etc.) and sleeves for cracking, leaks, and incorrect routing
Empty the drainage hoses
Check the coolant fill level and antifreeze
Check the shock absorber and fork for leaks. Perform fork / shock service as needed and depending on how the vehicle is used.
Check the steering head bearing for play.
Check the tire condition
Check tire pressure
Check the condition of the chain, front and rear sprocket, and the chain guide.
Check that the radiator fan is functioning properly.
Final check: Check the vehicle is roadworthy and take a test ride.
Grease all moving parts (e.g. side stand, hand lever, chain) and check for smooth operation
Check the tightness of the safety-relevant screws and nuts which are easily accessible.
[Dealer] Read out the error memory after the test ride using the KTM diagnostics tool.
[Dealer] Set the service interval display.
[Dealer] Make a service entry in KTMDealer.net
KTM 890 SMT Service Checklist
Chain Maintenance on the KTM 890 SMT
You need to service the KTM 890 SMT chain regularly, particularly as it's a travel motorcycle that you're likely to ride through rain, dirty roads, and so on.
Use a good-quality and portable lubricant like Motul Chain Paste, which is highly regarded.
Chain maintenance item
Every
Check the chain, rear sprocket, and engine sprocket
Chain length: 18 rollers = 272 mm maximum
Service
Check the chain tension
Chain tension spec: 2-5mm distance
Service
KTM 890 SMT Chain Maintenance
To check the chain condition on the 890 SMT:
Put the bike up on a centre stand (or raise up the rear somehow).
Put the transmission into neutral.
Pull on the lower chain section with 15 kg / 33 lb of weight.
Measure the distance of 18 rollers (checking against the max spec).
If the chain is looser than the max spec, replace it, along with the sprockets.
The chain tension check procedure is quite unusual on the KTM 890 SMT. Here's how you do it.
Put the transmission in neutral, and put the motorcycle on a flat surface on its centre stand.
Get the T-wrench out of the tool set.
Stick the T-wrench in the area between the chain and chain sliding guard.
Push the T wrench until it is under the screw indicated.
If you can push it just to the screw — the tension is correct. If you can push it more, the tension is too loose.
If the tension is not within this spec, adjust the chain tension.
Loosen the axle
Loosen the lock nuts
Adjust the chain adjuster nuts (evenly, using the reference marks) until the chain tension is correct
See the below diagram for reference.
Wheels and Tires for the KTM 890 SMT
The KTM 890 SMT wears sportbike-dimension wheels and tires. It has cast rims and the tires are tubeless
Adjust the pressures according to your own preferences, setup, ride style and conditions.
Wheel
Rim size
Tyre size
Tyre pressure (cold)
Solo – Passenger
Front
3.5 x 17 inch
120/70 ZR 17 M/C 58W M+S TL
2.4-2.5 bar (35-36 psi)
Back
5.5 x 17 inch
180/55 ZR 17 M/C 73W M+S TL
2.4-2.9 bar (35-42 psi)
KTM 890 SMT recommended tire sizes and pressures
Stock, the KTM 890 SMT ships with Michelin Power GP sport tires.
Tightening Torque specs
Below are some core tightening torque specs from the manual. There are quite a few more in the manual (see below) for you to peruse.
| Item | Nm | lb-ft |
| --- | --- | --- |
| Oil drain plugs (x2) | 20 | 15 |
| Oil filter cover screws | 6 | 4 |
| Rear axle | 90 | 66 |
| Front axle | 45 | 33 |
| Steering head | 18 | 13 |
| Top triple clamp | 15 | 11 |
| Front brake caliper | 45 | 33 |
| Rear brake caliper pin | 22 | 16 |
KTM 890 SMT torque specs
Alternatives to the KTM 890 SMT
The KTM 890 SMT doesn't have any direct competitors (motorcycles claiming to be in the middleweight sport touring supermoto segment). But it loosely could be grouped with other middleweight supermoto / sport tourers, which deserve your attention. Some of them have 19-inch wheels. But that's OK.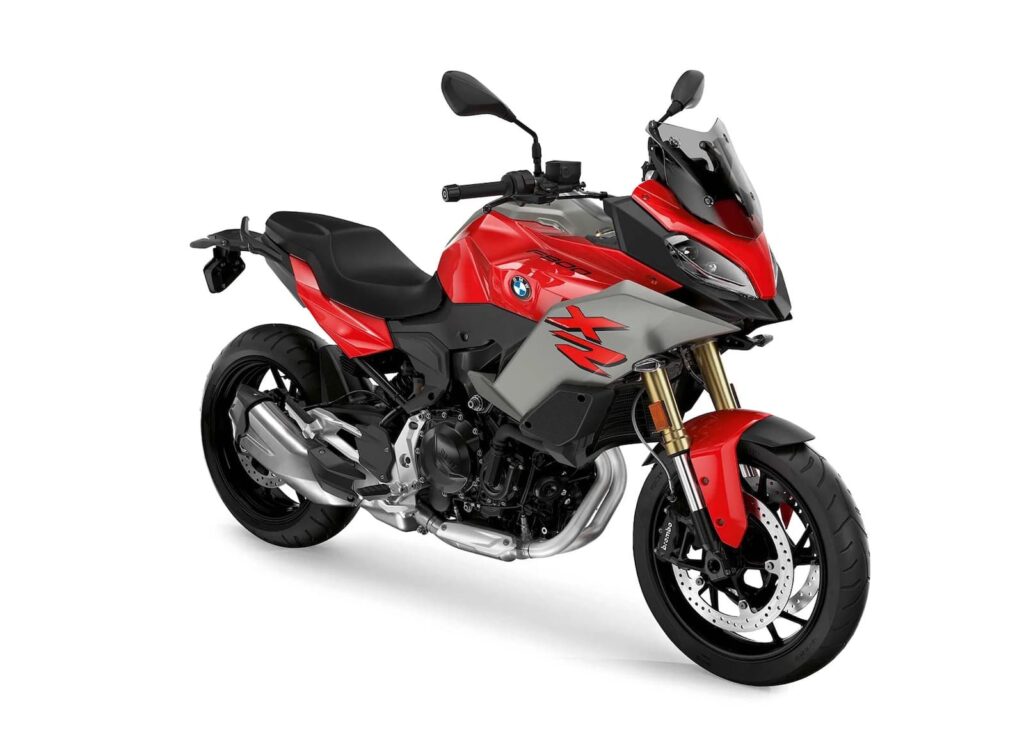 The BMW F 900 XR is an upright comfortable sport bike with a sparkling 895 cc parallel twin motor. It makes a decent 77 kW / 105 hp at 8500 rpm, but has a broad and flat torque curve that make it classically BMW easy to use. The XR has a pretty high spec, with even optional dynamic ESA, which adjusts damping in the rear shock. See more about the BMW F 900 XR here.
Modern king of the middleweight supermoto-style sport bikes is the Ducati Hypermotard 950. In fact, they were the only ones doing it for a while. The Hypermotard is the unruly younger sibling of the Multistrada 950 / V2. It's based on the same motor, but has a 17/17 front wheel combination. The Hypermotard 950 comes in three configurations: A base model, an RVE model with a stock quick shifter (and cool graphics), and an SP model with lightweight wheels, Öhlins suspension, and carbon fibre components.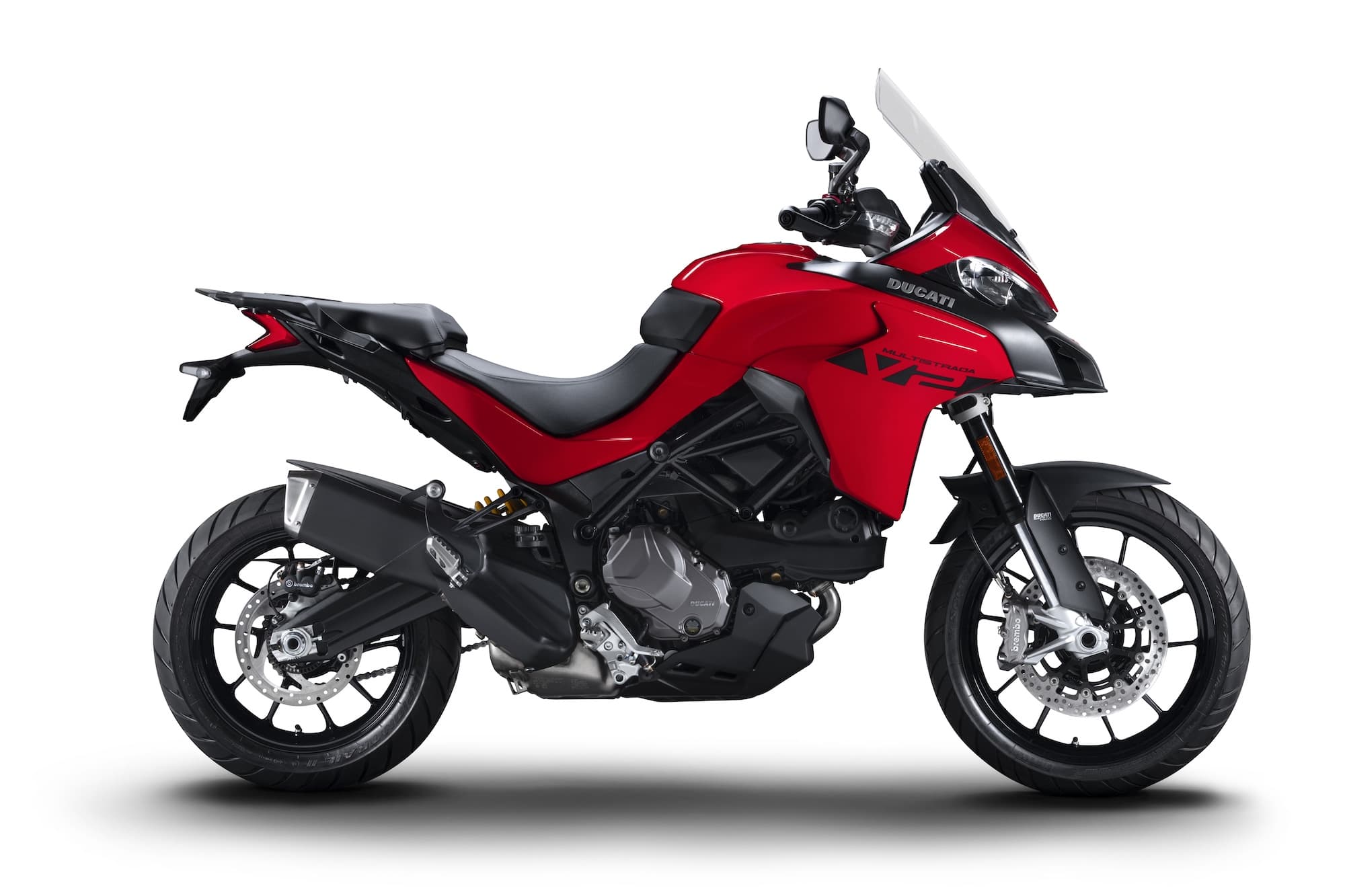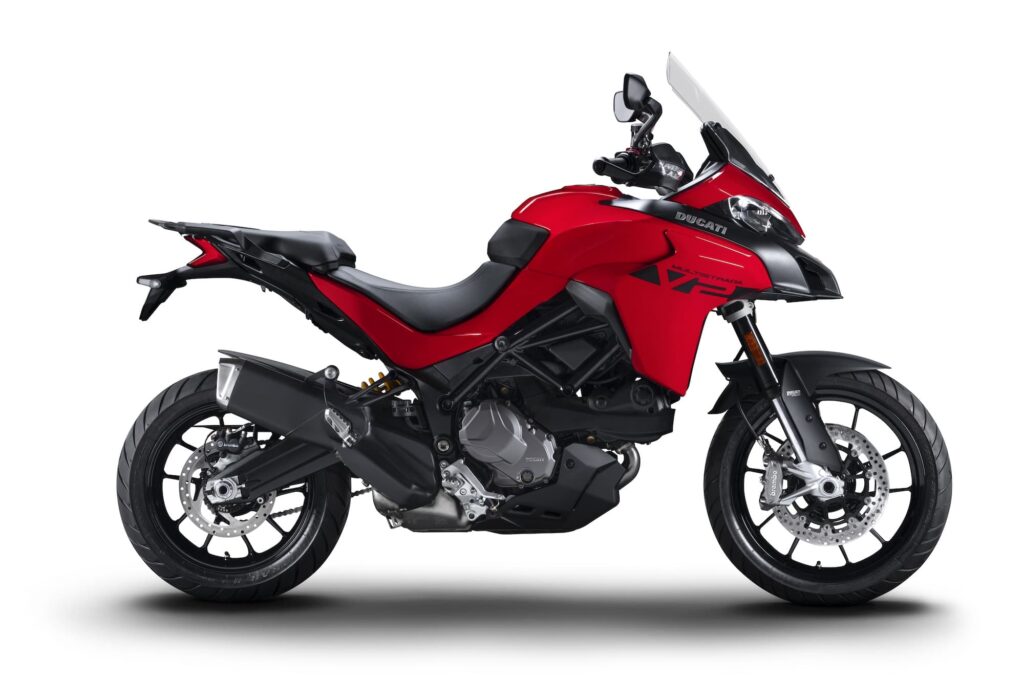 The Ducati Multistrada V2 is based on the same platform as the Ducati Hypermotard 950 — same motor and chassis. The motor is the now venerable 937 cc Testastretta-11 liquid-cooled V-twin that's across the whole middleweight Ducati range. The Multistrada V2 has a 19-inch front wheel and a more dedicated touring orientation than the others in the range.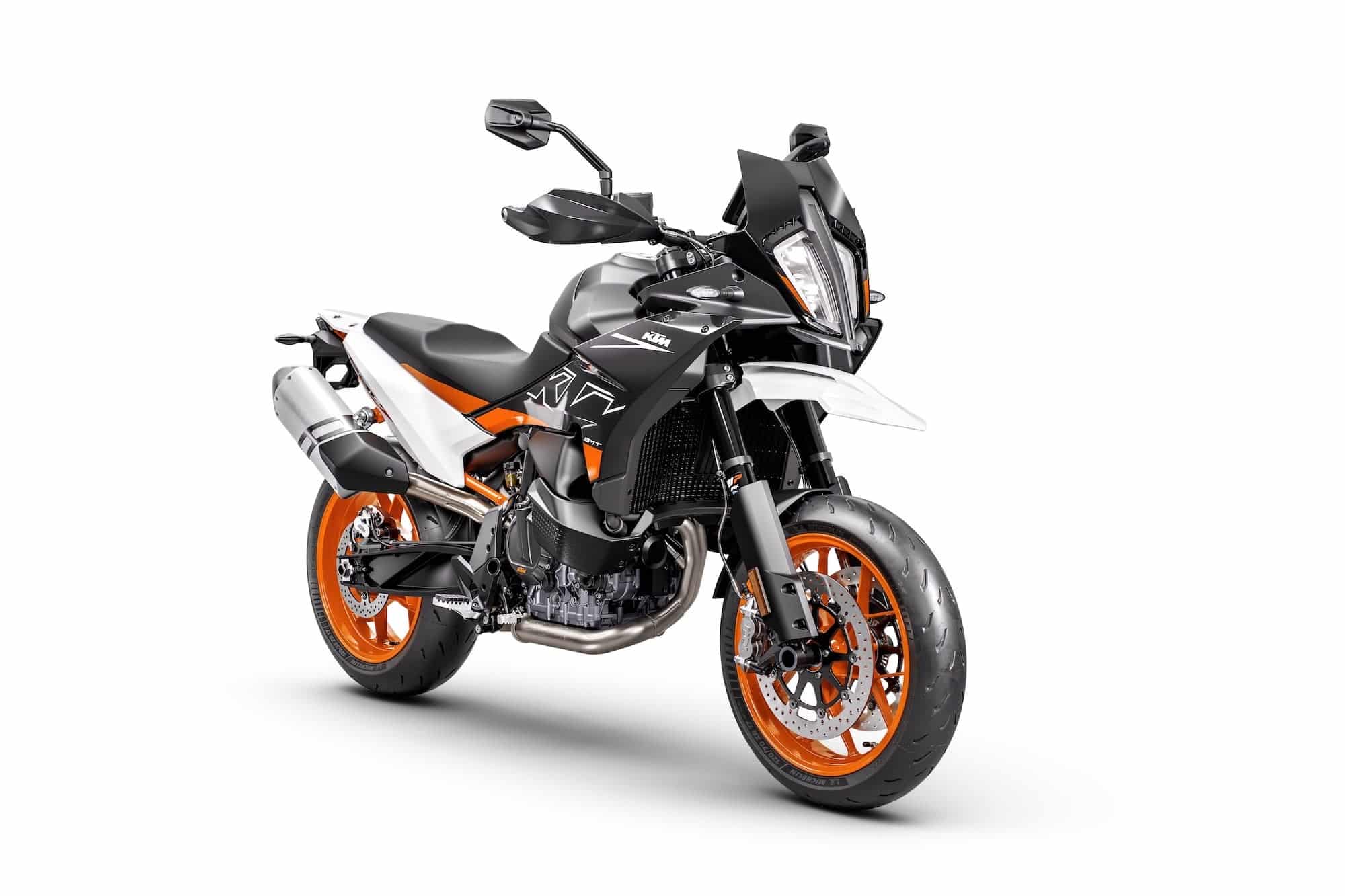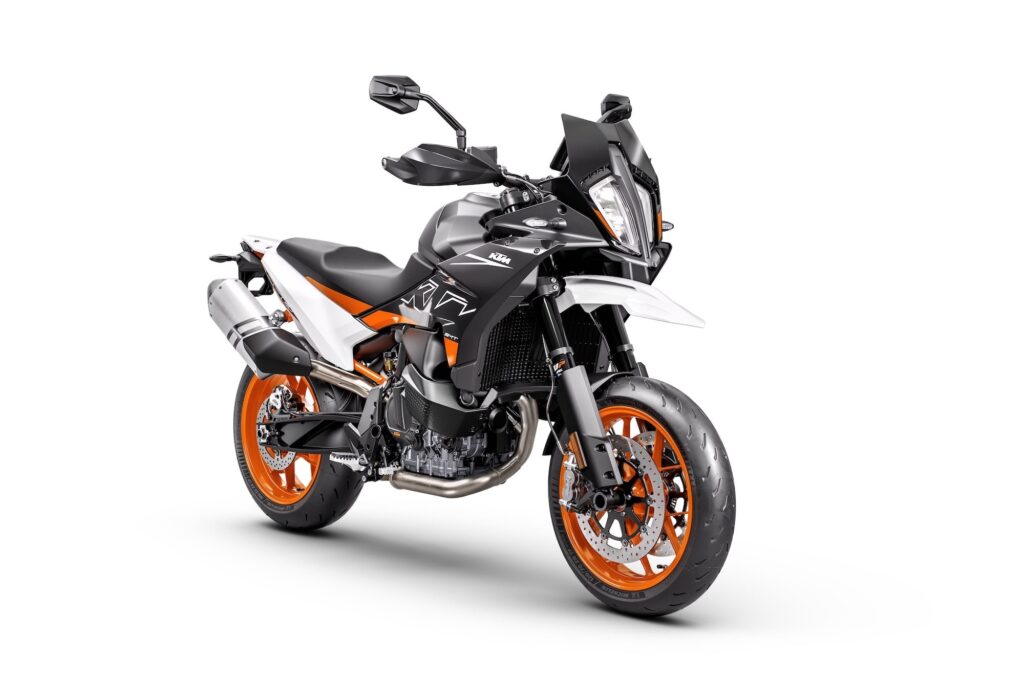 The 2023 KTM 890 SMT is a resurrection of the supermoto-style middleweight sport tourer (last seen in the KTM 990 SMT, 2011-2013). It's powered by the same 889 cc parallel twin that's in the 890 Duke and 890 Adventure. In the SMT, it puts out 77 kW / 105 hp @ 8000 rpm. KTM styles the SMT as a sporty tourer, emphasising the sporty, giving it decent suspension and high-end brakes, plus cornering ABS and options for cruise control and heated grips. It's really just a middleweight adventure tourer but with a fun engine.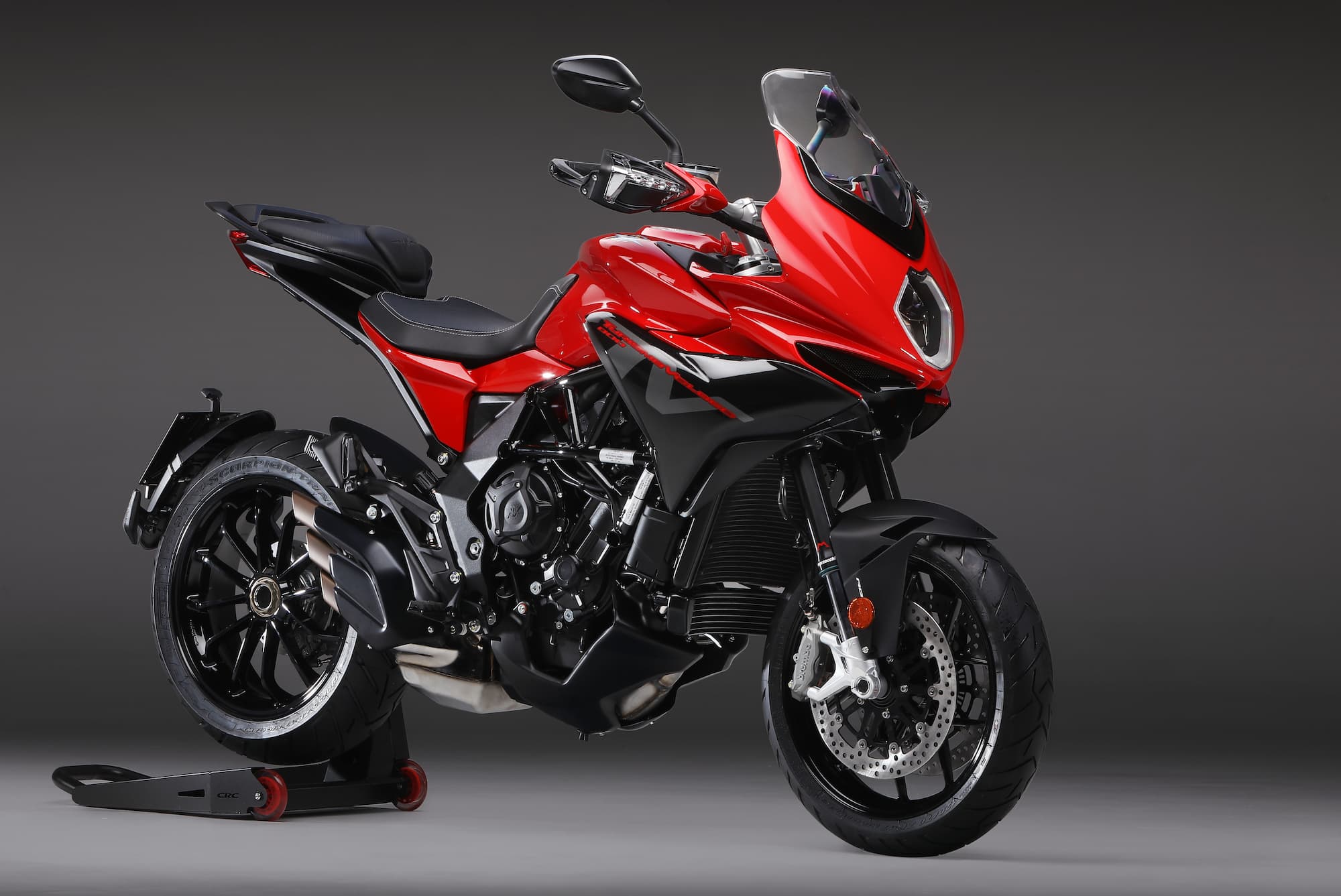 MV Agusta, known for exotica, make the most daring-looking sporty adventure tourer. It's love or hate, but I love it! The MVATV is powered by a 798 cc three-cylinder engine that makes 81 kW / 110 hp at 10150 rpm. Some variants of the Turismo Veloce come with semi-active front and rear suspension, and some even come with an SCS 2.0 automatic clutch. See more about the MV Agusta Turismo Veloce here.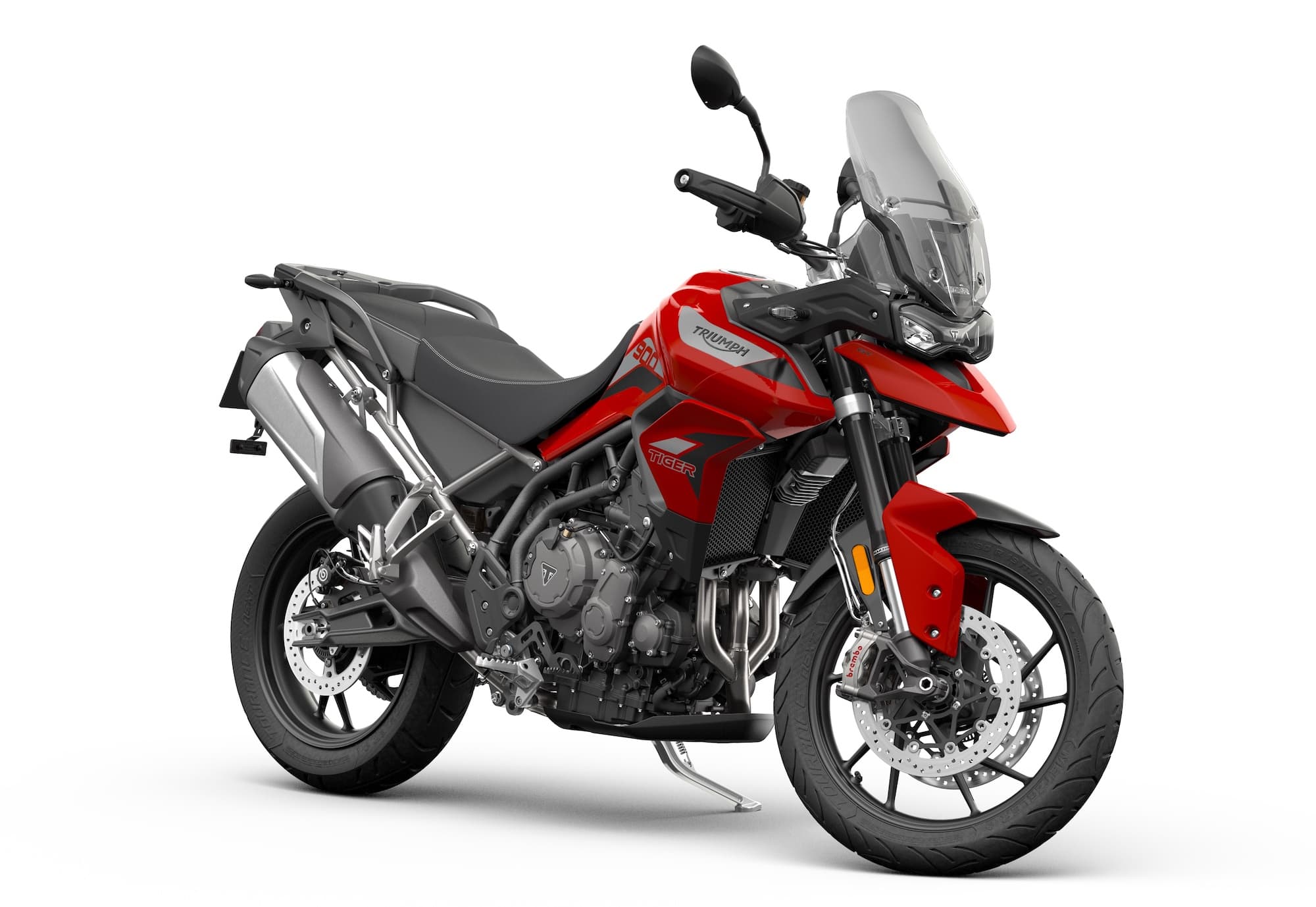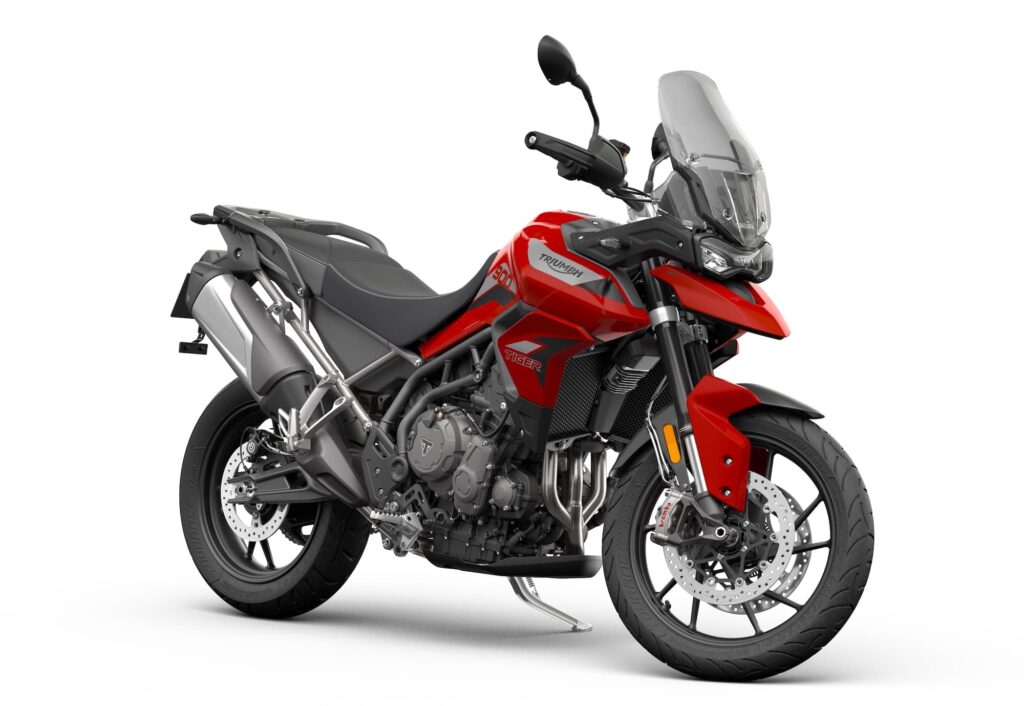 The Triumph Tiger 900 GT is the mid-spec street-oriented bike from the five-motorcycle line-up of the Tiger 900 (including the 900 GT, 900 GT Pro, 900 Rally, 900 Rally Pro and the base-spec 850 Sport, which is a lower-spec bike). They're all based on an 888 cc triple with a different firing order (Triumph calls it "T3"), and make a mid-range focused peak power of 70 kW / 95 hp at 8750 rpm. The various models come with different suspension, wheels, and trim levels; the GT models have 19-inch front cast rims.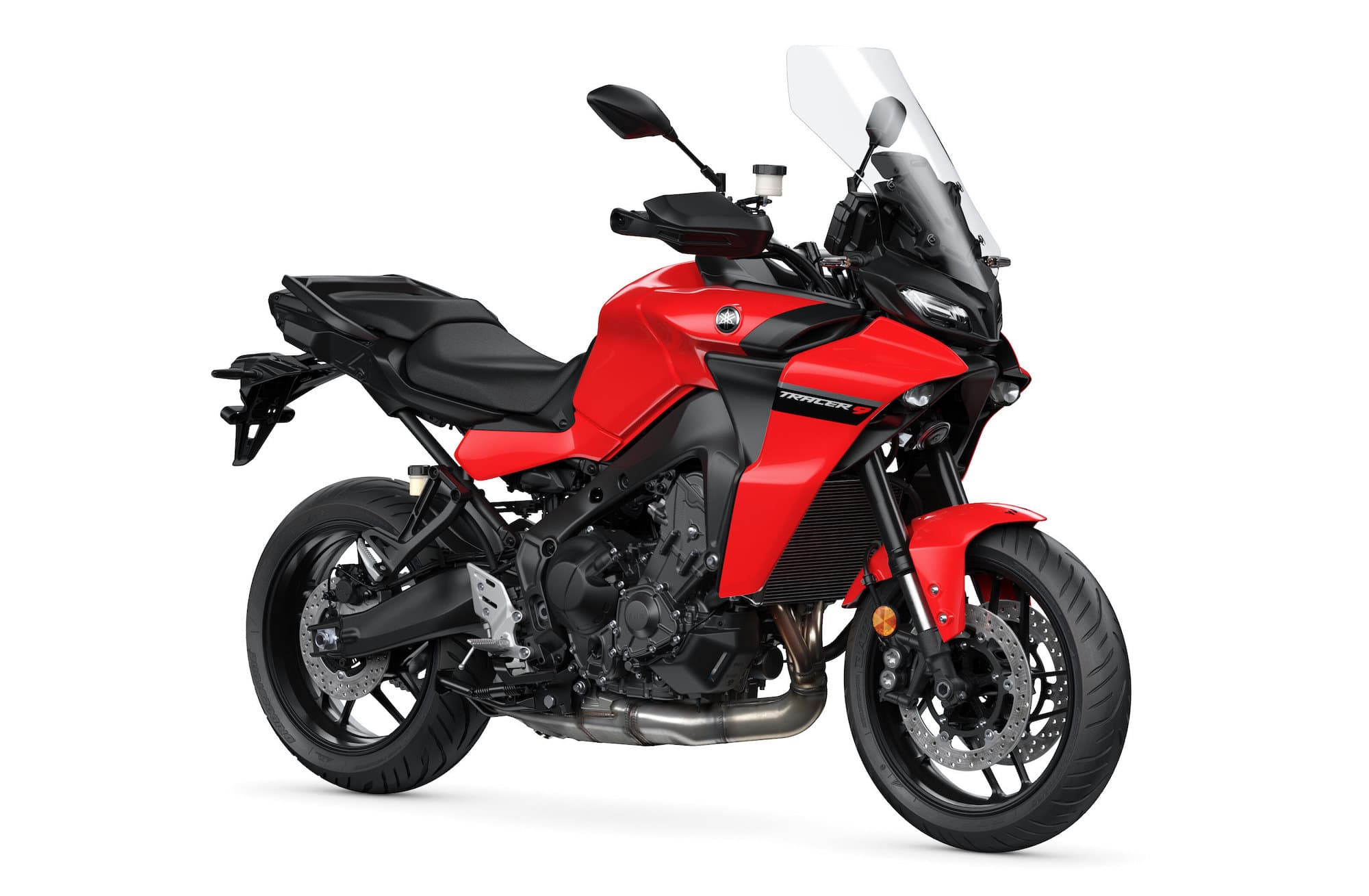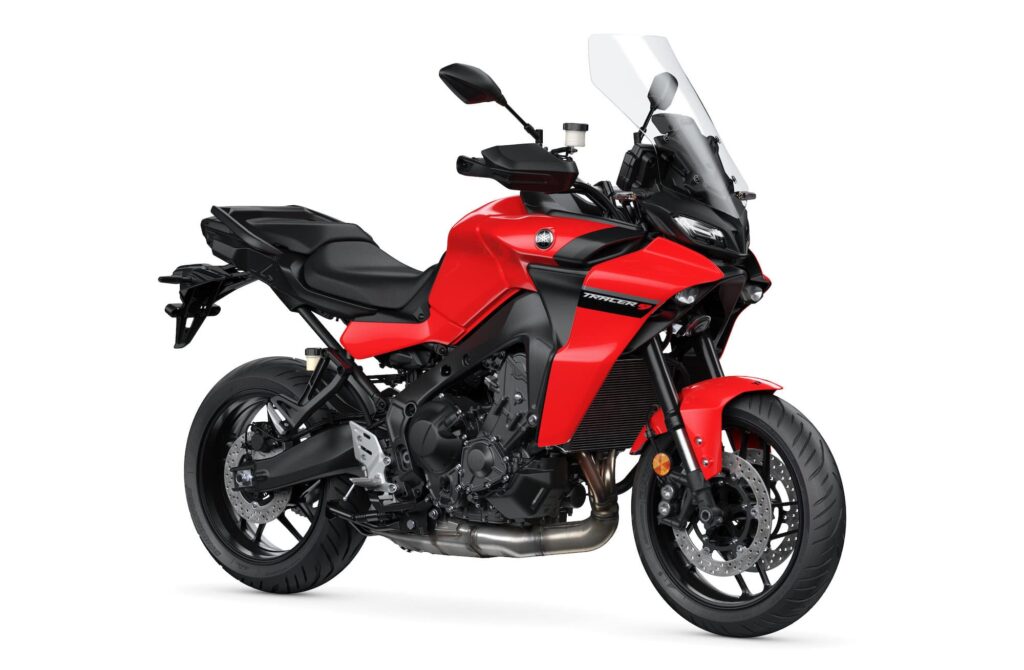 The Yamaha Tracer 9 is a middleweight sport tourer based on the CP3 engine shared with the Yamaha XSR900 and the MT-09. Yamaha upgraded the Tracer significantly with the new 890 cc three-cylinder motor, and it's a stunner. Like its little siblings, the Tracer 9 (and previous 900) has a 17-inch front wheel. The Tracer comes in a few configurations (the base model isn't available everywhere). The GT comes with luggage, a centre stand, and, oh, active suspension, and the GT+ (also not available everywhere) comes with front and rear radar, enabling adaptive cruise control — a first on the middleweight segment.
Other Related Motorcycles from KTM / Husqvarna
If you're interested in the 890 SMT, you're probably also considering other motorcycles with the 890 motor. They're not all KTMs!
The KTM 890 Adventure and R is the high-performance adventure / dual-sport motorcycle based on the 889 cc parallel twin. It's well-respected for being capable, with an engaging motor that's fun to use both on- and off-road, and for being very lightweight for its power and size (curb weight of 210 kg or 464 lb). See more about middleweight adventure motorcycles here.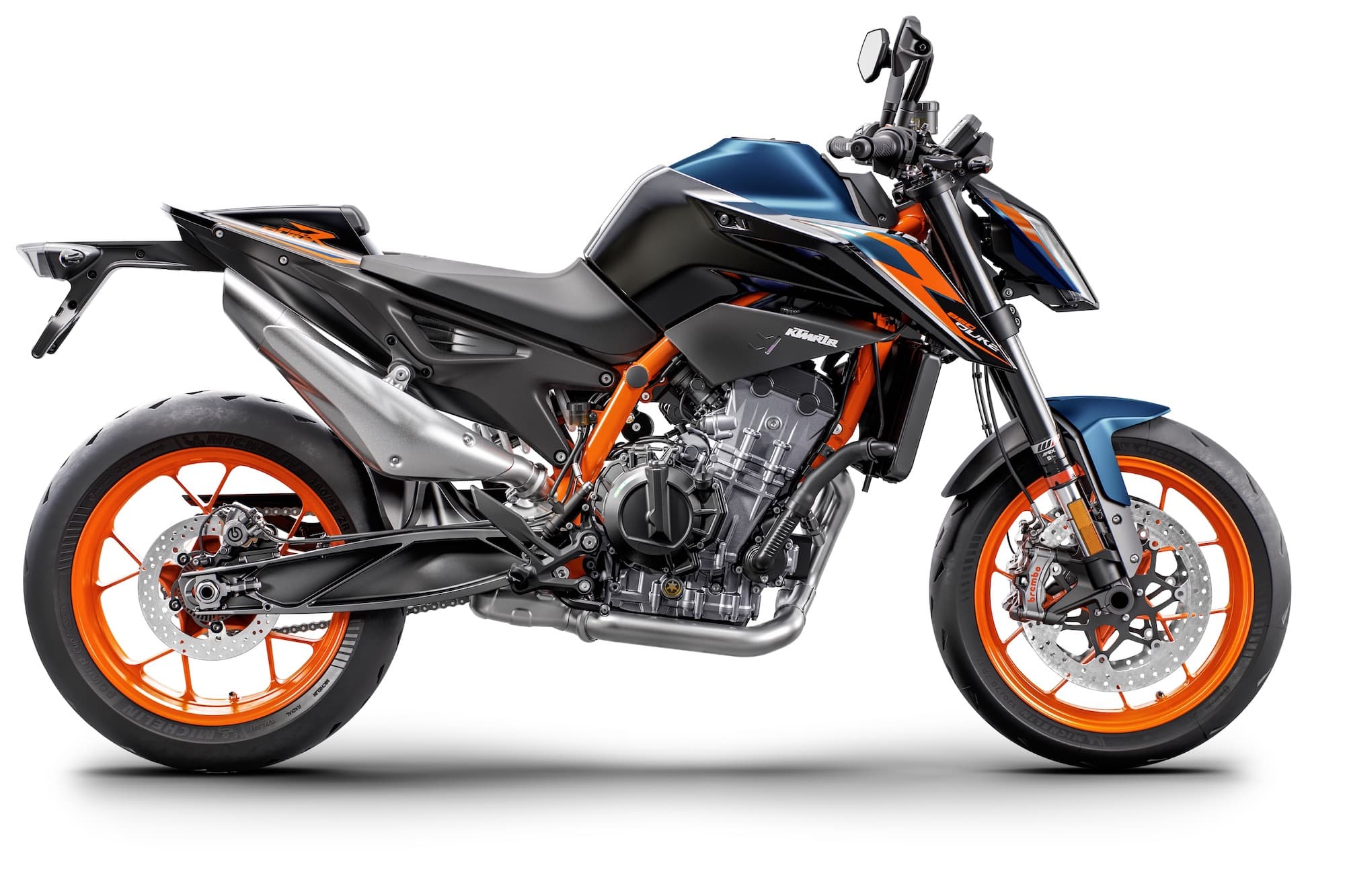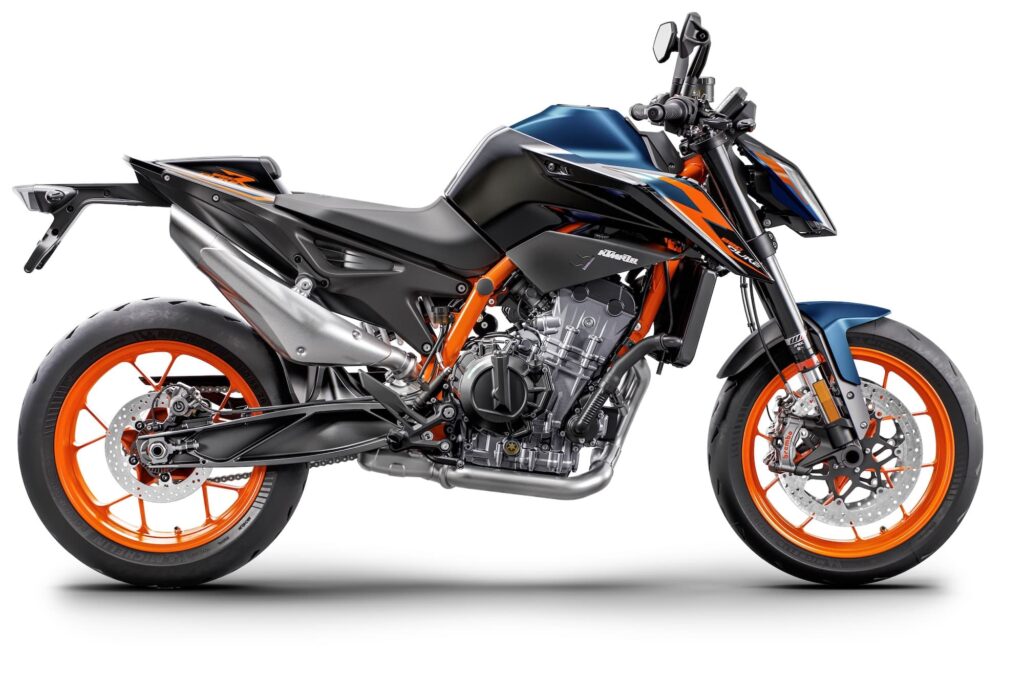 The KTM 890 Duke "Super Scalpel" is the high-performance naked motorcycle based on the 889 cc parallel twin motor. It's a classic wheelie machine, and a fan favourite, even though it's not the best-selling naked sport bike on the market. The R spec bike gets a more adjustabale front and rear suspension (but the base model is already very good). See more about middleweight naked sport bikes here.
The KTM 890 SMT is a high-spec middleweight sport touring bike, given the SMT moniker to remind you that it's supermoto-like, and that you can therefore have fun on it. It has 17-inch cast rims front and rear, but with decent 180 mm travel, meaning with a set of knobby rims you might actually be able to enjoy off-roading on it (nothing that would dent the rims or damage the exhaust, though).
Husqvarna, owned by the same parent company as KTM, has released a motorcycle based on the same platform as the KTM 890 Adventure. It's designed for long-haul adventuring, with comprehensive protection, but still has a 21-inch spoked front rim for any gnarlier roads. See more about middleweight adventure motorcycles here.
Reference — Owner's Manual for the KTM 890 SMT
The above information came from a mix of the owner's manual, service manual, press releases, and forum information for the 890 SMT.
Below you can see some screenshots for the manual of the KTM 890 SMT.
You can also download the manual directly from KTM here.