This is a series of resources on the Suzuki GSX-8S, including notes on operating the bike's controls, maintaining it per the maintenance schedule, and more.
Suzuki launched the GSX-8S for the 2023 model year, letting it temporarily co-exist with the Suzuki GSX-S750 four-cylinder sport bike, as well as with the SV650 V-twin.
Unlike most mid to large-size GSX motorcycles (which have inline fours), Suzuki gave the GSX-8S a liquid-cooled 776cc DOHC parallel twin motor with four valves per cylinder. It makes 62 kW / 84 hp at 8500 rpm under EURO 5 trim.
Suzuki's GSX-8S shares a platform with the middleweight adventure motorcycle the Suzuki V-Strom 800DE.
Below you can find information on the Suzuki GSX-8S' maintenance schedule and service intervals, as well as parts you need for a standard service, guidelines for basic services like oil changes, drivetrain maintenance, and torque specs.
Note: Motofomo is reader-supported. If you buy some of the products that we link to, we may earn an affiliate commission, which otherwise goes to the marketplace (e.g. Amazon).
Are you obsessed with motorcycles?
Well, I am. That's why I created this site — as an outlet. I love learning and sharing what others might find useful. If you like what you read here, and you're a fraction as obsessed as I am, you might like to know when I've published more. (Check the latest for an idea of what you'll see.)
About the Suzuki GSX-8S
The Suzuki GSX-8S is a middleweight naked sport motorcycle that is a continuation of the Suzuki GSX-S series, with the latest version being the GSX-S750.
Like its GSX-S siblings, the GSX-8S aims to be a versatile day-to-day ride, with a comfortable seating position and plenty of power for various needs. But its handlebars and relatively modest power mean things won't get too wild.
Unlike its four-cylinder predecessor, or even the GSR750 before that, the GSX-8S brings in a novel element — a parallel twin engine. This is a fresh direction for Suzuki, who have traditionally gone with V-twins or inline fours for their middleweights. The previous GSX-S models borrowed their engines from former high-performance sports bikes. The GSX-8S is doing its own thing.
The engine is a gem, and already well-loved. It's a 776cc liquid-cooled DOHC 8-valve engine with a 270-degree crankshaft, a trend that's getting popular these days for always remaining in motion, maximising traction.
In stock trim, the engine puts out a healthy amount of power for a mid-size bike, giving 83 horsepower at 8500 rpm, with a torque peak of 57 lb-ft at 6800 rpm. Like many middleweight twins, it's designed for quick gear changes, and according to Suzuki's data, the torque appears to flatten out after about 6000 rpm, a natural shift point for many when riding around the street. If you really like, you can wind it out past 9500 rpm — the redline is shortly afterwards.
The Suzuki's engine's power is well-suited to the 202 kg / 445 lb fully-fuelled weight. The GSX-8S's torque and weight make it a fierce rival for the newly released Honda CB750 Hornet, which coincidentally has a near-identical engine setup (nearly the same displacement, and also a 270-degree parallel twin).
A few other factors make the GSX-8S a contender among mid-range bikes.
First, Suzuki loaded up this middleweight sport bike with a bunch of rider-friendly features. While it doesn't have cornering ABS or cruise control, it does have standard ride modes (through Suzuki's SDMS), traction control, a bi-directional quick shifter, and of course ABS. Something new is the clutch assist system, missing from previous models.
To help you manage all these features, there's a 5-inch TFT, which is easy to read even in bright light.
Second, the Suzuki comes with some high-grade riding gear. The front suspension is a KYB inverted fork at the front, and there's KYB shock at the rear. Sadly, in contrast with the V-Strom 800DE's full adjustability, there's limited adjustability on the GSX-8S — just preload at the rear.
The brakes are twin 310mm discs with four-piston radial callipers — equipment that was seen on superbikes just ten years prior.
Third, Suzuki has modernized the GSX's look, giving it a "streetfighter" style and stacked vertical headlights. While they might not be for everyone, it's unique. Suzuki has been doing stacked headlights for a while in its GSX-R line.
Like most liquid-cooled Suzuki bikes, the GSX-8S has oil change intervals of 3750 miles or 6000 km, at which point Suzuki advises checking a few things.
Thankfully, the parallel twin design means the valve clearance check (required every 15000 miles / 24000 km) is fairly straightforward, as there's only one cylinder head to deal with and no tricky access to rear cylinders. However, bear in mind that the backbone frame means you might have to move a few things to be able to get to the cylinder head.
The only drawback of the GSX-8S is that it might spell the end for the popular Suzuki SV650.
Suzuki GSX-8S Specifications
Here are the core specifications for the GSX-8S, along with some notes.
| Item | Specs | Notes |
| --- | --- | --- |
| Engine type | Parallel twin, 270-degree crankshaft | All the rage these days |
| Capacity | 776 cc | |
| Bore x stroke (mm) | 84.0 x 70.0 mm | Longer stroke than the Honda CB750 (87 x 63.5 mm) |
| Compression ratio | 12.8:1 | Requires premium (90 (R+M)/2) fuel |
| Peak power | 62 kW / 83 hp @ 8500 rpm | |
| Peak torque | 78 Nm / 58 lb-ft @ 6800 rpm | |
| Front suspension | KYB inverted fork, non-adjustable | |
| Rear suspension | KYB shock, preload-adjustable | |
| Front brakes | 2 x 310 mm discs, Nissin four-piston radial callipers | |
| Wet weight | 203 kg / 447 lb | |
| Ride aids | Assist / Slip clutch, Quick Shifter | No IMU, no cruise control |
Suzuki GSX-8S specs
Using the GSX-8S' Screen and Controls
When assessing any motorcycle, I like to have an overview of the interface and the important controls — things like cruise control, rider aids, and adjusting rider settings.
Most things are achieved via the Suzuki GSX-8S's mode switch on the left handlebar. This gives very quick access to SDMS (drive mode) and TC settings. (ABS can't be adjusted.)
Using the controls on the GSX-8S is pretty straightforward. You use the mode button to switch between TC and SDMS, and use the up and down buttons to choose a setting. Boom!
You can also hold the mode button down for 2 seconds, which will take you to a menu. Find the service section, look for recent error codes and the next service due date, and consider that (if you're buying used, anyway).
Suzuki GSX-8S Service Intervals
The following information came from maintenanceschedule.com.
Overall, the Suzuki GSX-8S has 3750 mile / 6000 km or annual service intervals, like many other liquid-cooled Suzuki motorcycles. At every service, change the oil, and inspect or replace the spark plugs, inspect / replace the air filter, and do a host of other checks (listed below).
The major valve service interval for the GSX-8S is every 15000 miles / 24000 km.
The GSX-8S has a cable clutch, so keep the cable lubed and check that it's in good condition, and periodically change the brake fluid.
And of course make sure you change the coolant periodically too — more often if you use anything other than Suzuki super long-life coolant (blue).
Suzuki GSX-8S Maintenance Schedule
Below is the maintenance schedule for the GSX-8S.
| mi x 1000 | 0.6 | 3.75 | 7.5 | 11.25 | 15 | |
| --- | --- | --- | --- | --- | --- | --- |
| km x 1000 | 1 | 6 | 12 | 18 | 24 | Every |
| Standard annual inspection checklist (see below) – Perform | ✓ | ✓ | ✓ | ✓ | ✓ | Year |
| Engine oil – Change (Motul 7100 10W-40) | ✓ | ✓ | ✓ | ✓ | ✓ | Year |
| Engine oil filter – Change (HF138RC) | ✓ | | | ✓ | | |
| Air filter (polyester foam type) – Clean (GSX-8S) | | ✓ | ✓ | ✓ | ✓ | |
| Air filter (non-woven type) – Inspect | | ✓ | ✓ | | ✓ | |
| Air filter (non-woven type) – Replace | | | | ✓ | | |
| Spark plugs – Inspect | | ✓ | | ✓ | | |
| Spark plugs – Change (LMAR8BI-9) | | | ✓ | | ✓ | |
| Steering – Check for smooth operation, adjust as necessary | | | ✓ | | ✓ | |
| Front fork – Check for smooth operation, no leaks | | | ✓ | | ✓ | |
| Rear suspension – Check for smooth operation, no leaks | | | ✓ | | ✓ | |
| Coolant (Suzuki super long-life coolant) | | | | | ✓ | 4 years |
| Brake fluid – Replace (Castrol DOT 4) | | | | | | 2 years |
| Brake hoses – Replace | | | | | | 4 years |
| Throttle valve sync – Inspect / Adjust | ✓ | | ✓ | | ✓ | |
| PAIR (air supply system) – Inspect | | | ✓ | | ✓ | |
| Evaporative emission control system – Inspect | | | ✓ | | ✓ | |
Suzuki GSX-8S Maintenance Schedule
Suzuki GSX-8S Annual Inspection Checklist
Below is the annual inspection checklist for the GSX-8S.
Suzuki GSX-8S Annual Inspection Checklist
Fuel hoses – Inspect condition and routing
Radiator hoses – Inspect condition and routing
Clutch – Check function, adjust play. Lubricate cable as necessary
Brake fluid – Inspect level
Brake hoses – Inspect condition
Drive chain – Inspect
Drive chain – Clean / lubricate
Perform every 1000 km / 600 mi — See below notes on checking slack
Lights and electrical equipment – Check function
Tires – Inspect condition and pressure
Chassis bolts and nuts – Inspect / Tighten
General lubrication – Perform
Perform every 1000 km / 600 mi
GSX-8S Annual Inspection Checklist
Maintaining your Chain on your Suzuki GSX-8S
Maintain your GSX-8S's chain regularly. Whether you use your bike as a commuter (especially through rain or dusty conditions), weekend scratcher, or occasional track bike, the chain is likely to get a lot of abuse due to the variety of conditions, and needs to be regularly cleaned, chained, and re-tensioned.
To clean it, use a good-quality (and affordable) chain lube like Motul Chain Paste, or use a full on Motul Chain Care Kit to clean and restore a chain.
Suzuki recommends that you maintain your chain according to the following schedule.
Chain maintenance item
Every
Check chain
* Correct tension / slack (20-30mm / 0.8-1.2 in at loosest point)
* Adequate lubrication
* No excessive wear / damage
Ride (pre-ride check)
Clean and lubricate chain
1000 km / 600 miles
Suzuki GSX-8S chain maintenance
Damage includes loose pins, damaged rollers, dry or rusted links, kinked or binding links, excessive wear, and improper adjustment.
Measuring and adjusting Chain Slack
For Suzuki, chain slack is defined as the free play of the chain (the bottom segment) at its loosest point.
To measure chain slack:
Put your bike in neutral and on its kickstand on a level surface with no load on it (no luggage / heavy accessories)
Use a steel ruler and optionally gloves or a rag to move the chain up and down at the middle part of the bottom chain segment. Measure the deflection.
Check chain slack at multiple points, moving the bike forwards or backwards.
Target chain slack for the Suzuki GSX-8S: 20-30mm (0.8-1.2 inches)
If the chain slack is out of spec, you need to adjust it.
Adjusting chain slack
This is the procedure to adjust chain slack on the GSX-8S. It's fairly straightforward as it has a dual-sided swing-arm.
Loosen the axle nut.
Loosen the lock nuts on the left and right.
Turn the adjuster bolts until you reach the target slack level.
Make sure you keep the chain aligned, using the reference marks on both sides of the axle.
Tighten the axle nut (torque: 74 lb-ft or 100 Nm)
Re-check the slack after tightening the axle to make sure it's still right.
Tighten the adjuster lock nuts (22 Nm / 16.5 lb-ft)
Wheels and Tires for the GSX-8S
The Suzuki GSX-8S ships with Dunlop Roadsport X tubeless tires to suit its 17-inch cast rims. It wears modern standard sport bike dimension tires (with a 180-profile rear), so there's a wide variety of aftermarket options.
Below are the tire sizes and recommended pressures.
| Wheel | Tire size | Tire pressure (cold) |
| --- | --- | --- |
| Front | 120/70ZR17 M/C 58W | 250 kPa / 2.5 bar / 36 psi |
| Rear | 180/55ZR17 M/C 73W | 250 kPa / 2.5 bar / 36 psi |
Tire sizes and pressures for the Suzuki GSX-8S
Alternatives to the Suzuki GSX-8S
The Suzuki GSX-8S is a middleweight naked sport bike, in the same vein as the Suzuki SV650 before it. So you're likely to compare it with other mid-tier middleweight sport motorcycles, without getting to the "premium" end of things.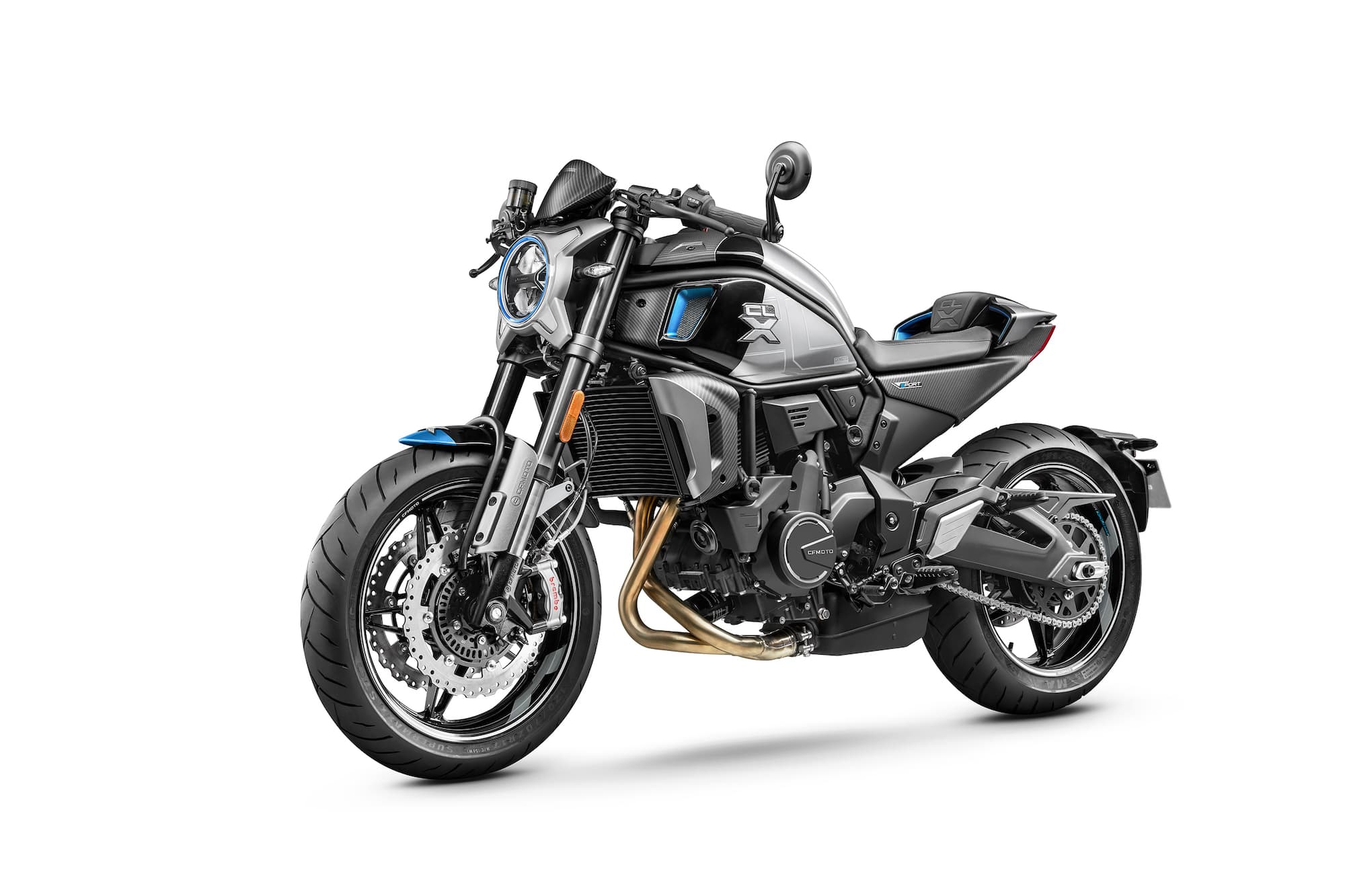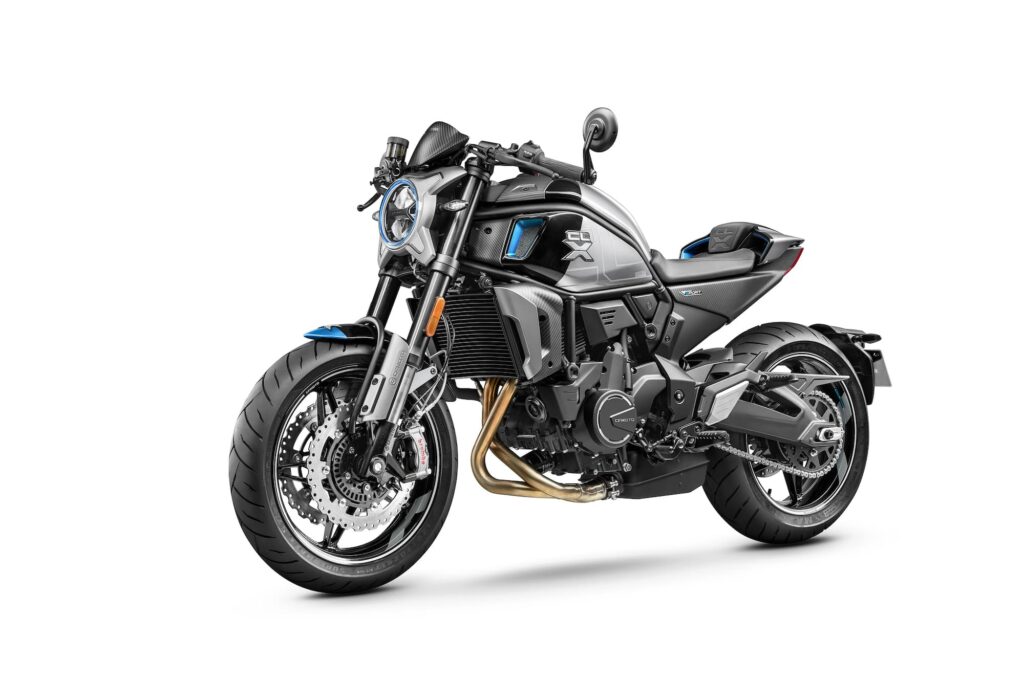 The CFMOTO 700 CL-X is a high-spec middleweight sport bike by emerging Chinese manufacturer CFMOTO. It is powered by a 693 cc liquid-cooled parallel twin with a 180-degree crankshaft. The CL-X comes with a slipper clutch, mid/high-end brakes and suspension, and lots of style.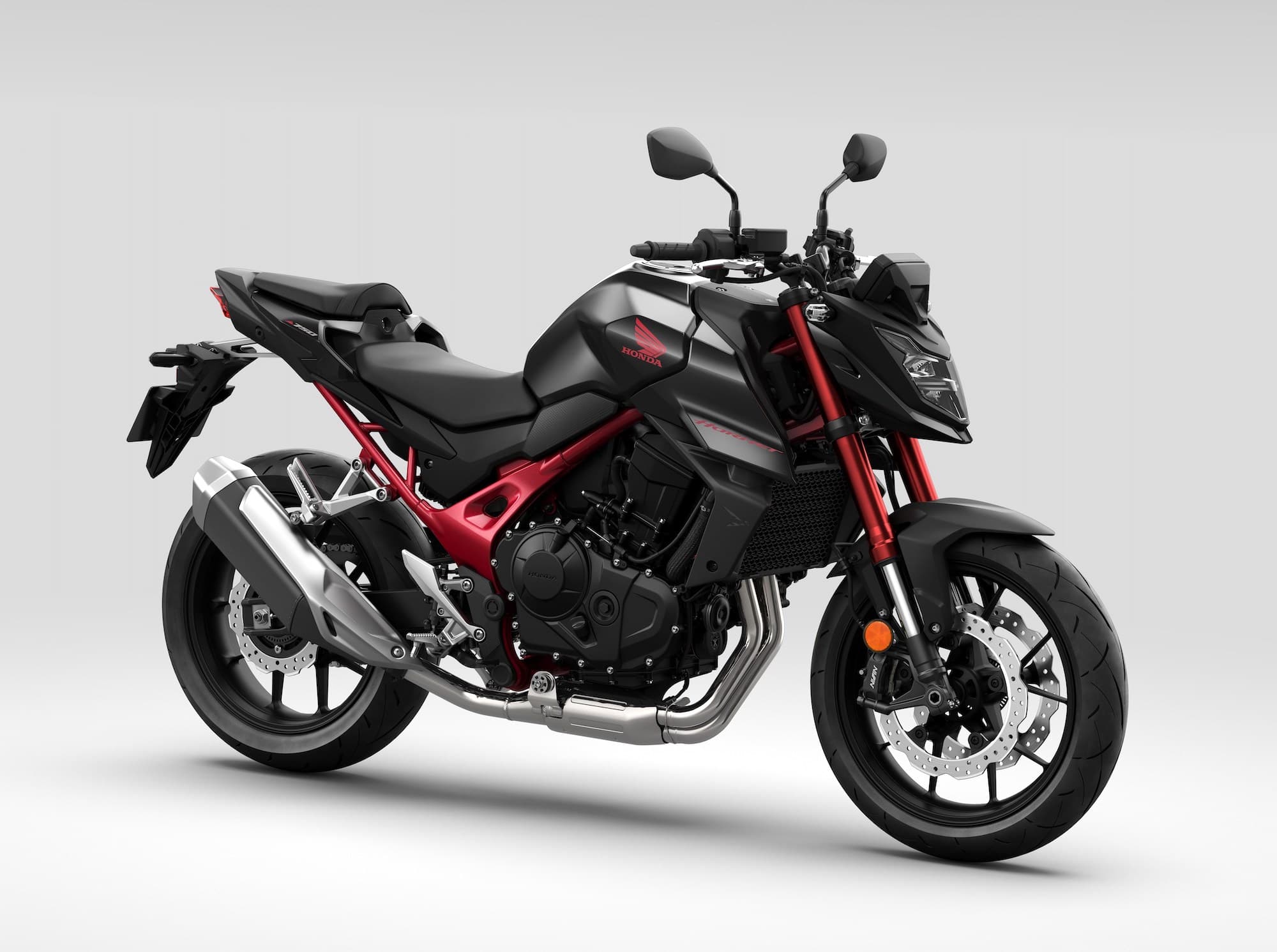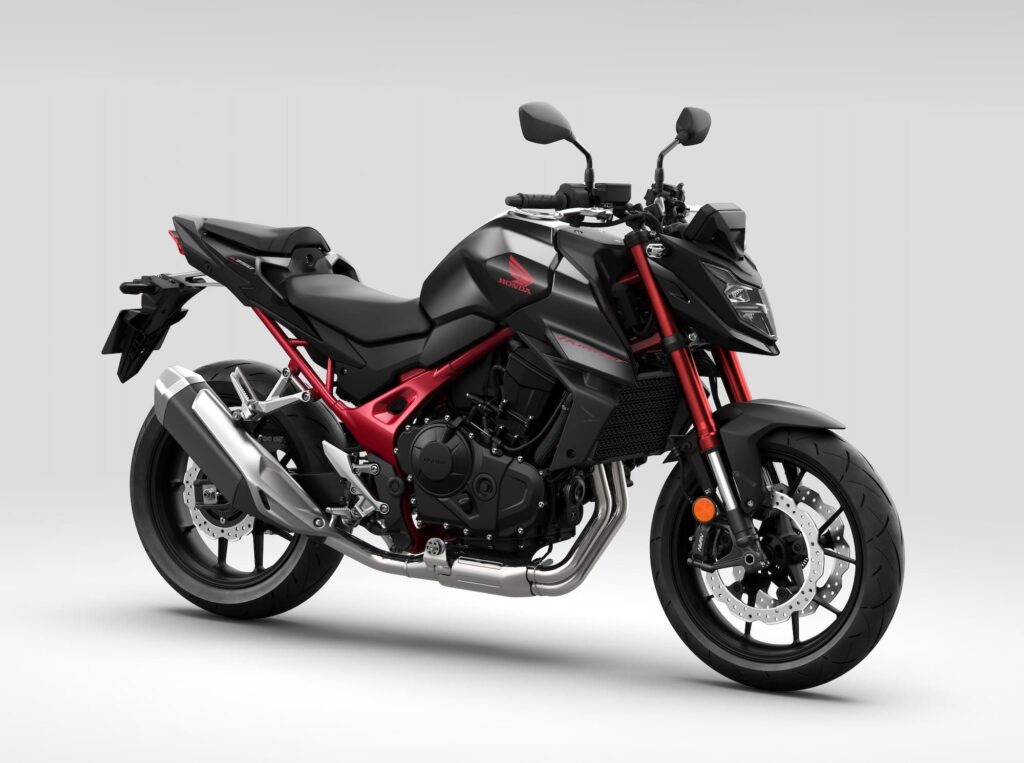 The Honda CB750 Hornet is a 2023-onward re-launch of the Hornet brand, as well as a re-launch of the CB750 brand. Unlike former Hornets (and many former CBs), the CB750 Hornet is powered by a parallel twin with a 270-degree crankshaft. It brings the Hornet into the modern age with advanced ride gear, including traction control and a quickshifter, though it lacks the latest and greatest of the bigger CB sport motorcycles.
The Kawasaki Z650 and Z650RS — same bike, but the RS in retro modern form — is powered by a 649 cc parallel twin with a 180-degree crankshaft. Kawasaki has a long history of parallel twins dating back decades, and they've consistently been known for being dead reliable, easy to live with, versatile. Kawasaki has updated the Z650 / RS a few times. Both come with a slipper clutch, and the Z650RS has a TFT display.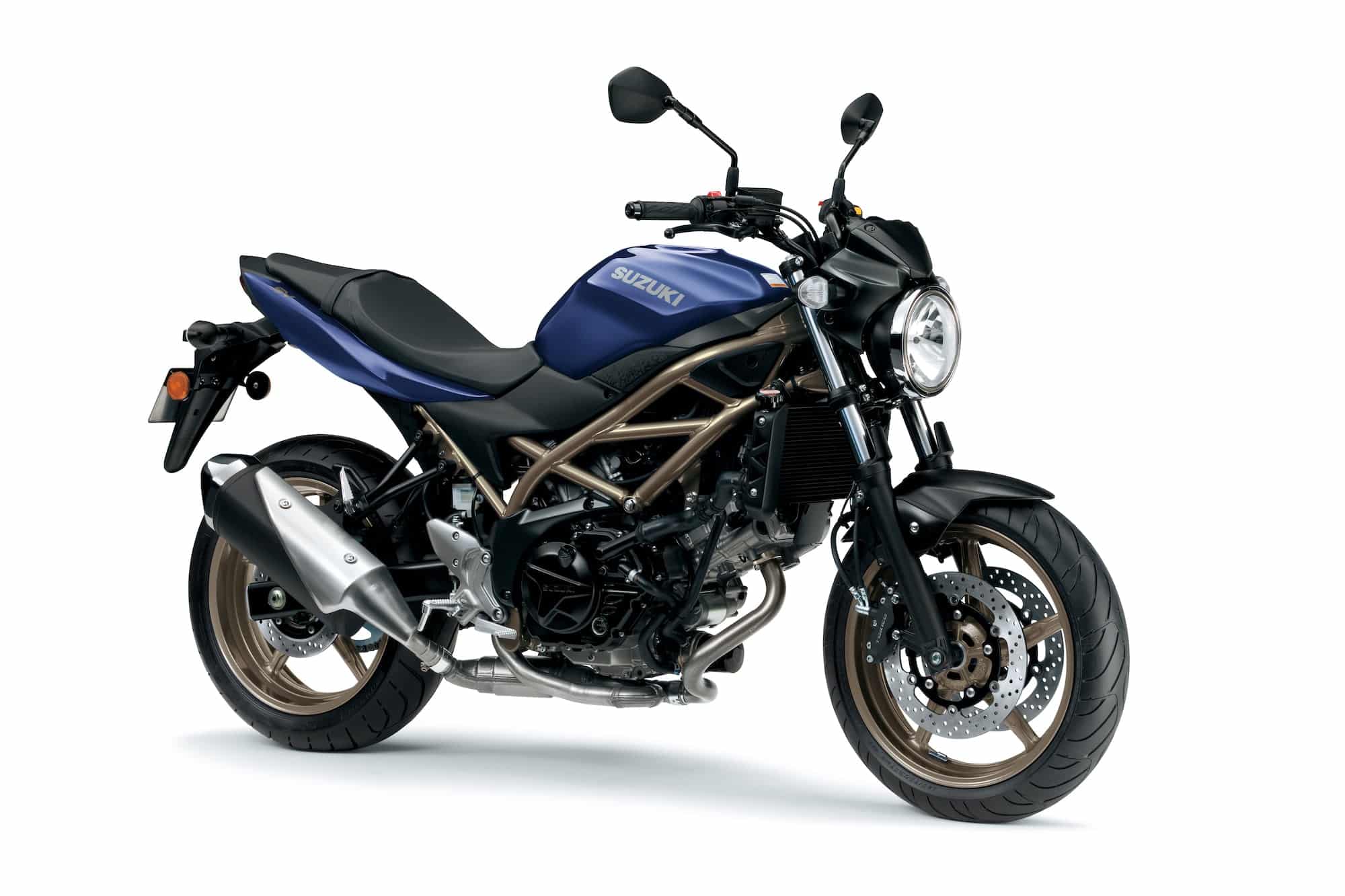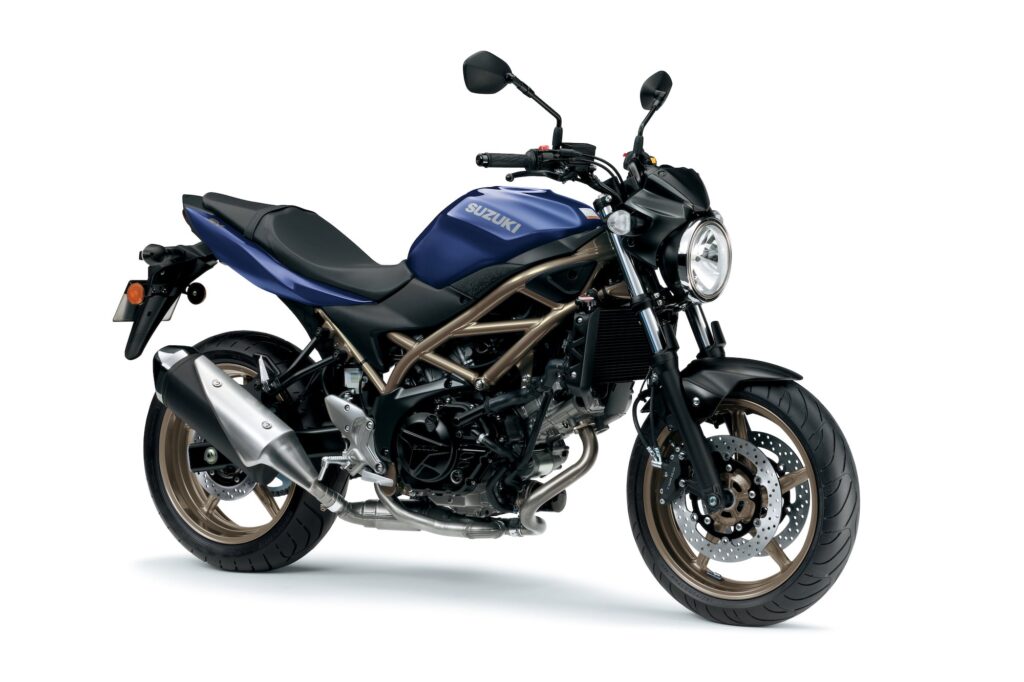 The Suzuki SV650 was one of the first bikes to really kick off the middleweight twins phase. It has a sparkling 645 cc liquid-cooled V twin which has had the same format for over 20 years. It's now in its last days, with the Suzuki GSX-8S sure to take the mantle, but there's a lot of joy to be had in the SV. It has striking looks with its trellis frame, easy manners, and plenty of engine character.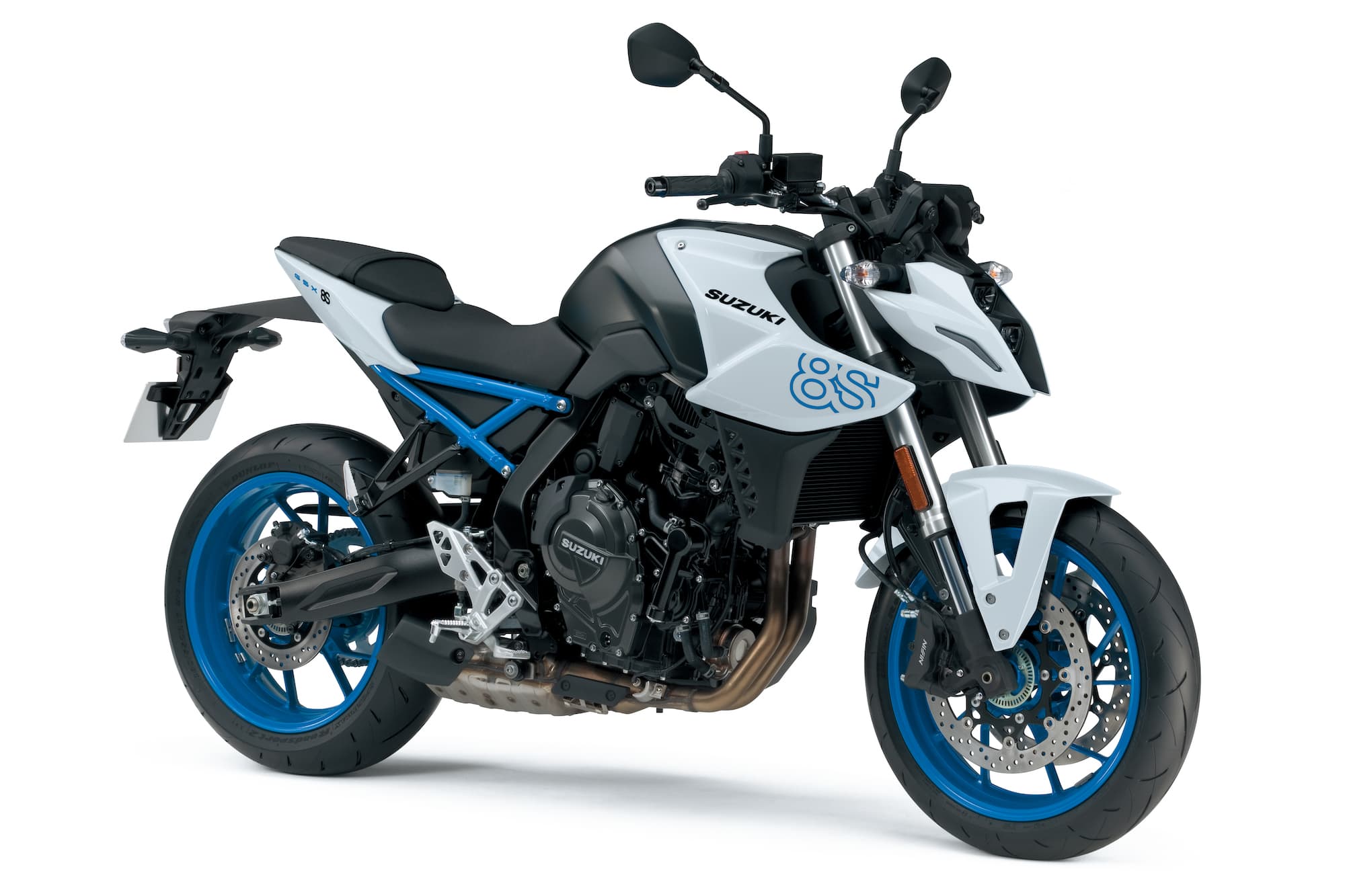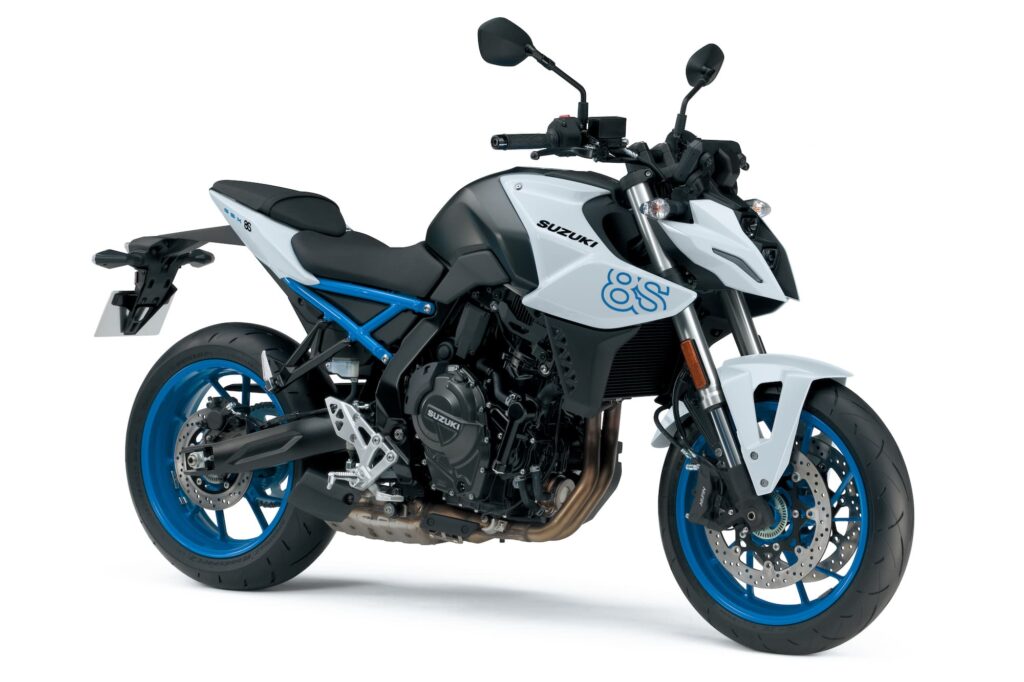 The Suzuki GSX-8S is a new-for-2023 middleweight naked sport motorcycle. It is powered by a 776 cc parallel twin that makes a broad spread of torque, though it peaks with less power than the also new-for-2023 CB750 Hornet. It has more ride aids than most bikes of its class (with TC, a quick shifter, and ride modes), but lacks cornering ABS.
The Yamaha MT-07, formerly FZ-07, stepped into the shoes of the Suzuki SV650 in 2015 while the SV was taking a break between the 2nd and 3rd generations. It is powered by a parallel twin with a 270-degree crankshaft, and is known for being a fun and characterful wheelie machine.
Other Related Motorcycles
If you're interested in the GSX-8S, you're probably also considering other motorcycles with the parallel twin motor.
The main other contender is the Suzuki V-Strom 800DE. It has the same engine, but it's set up for on and off-road exploring.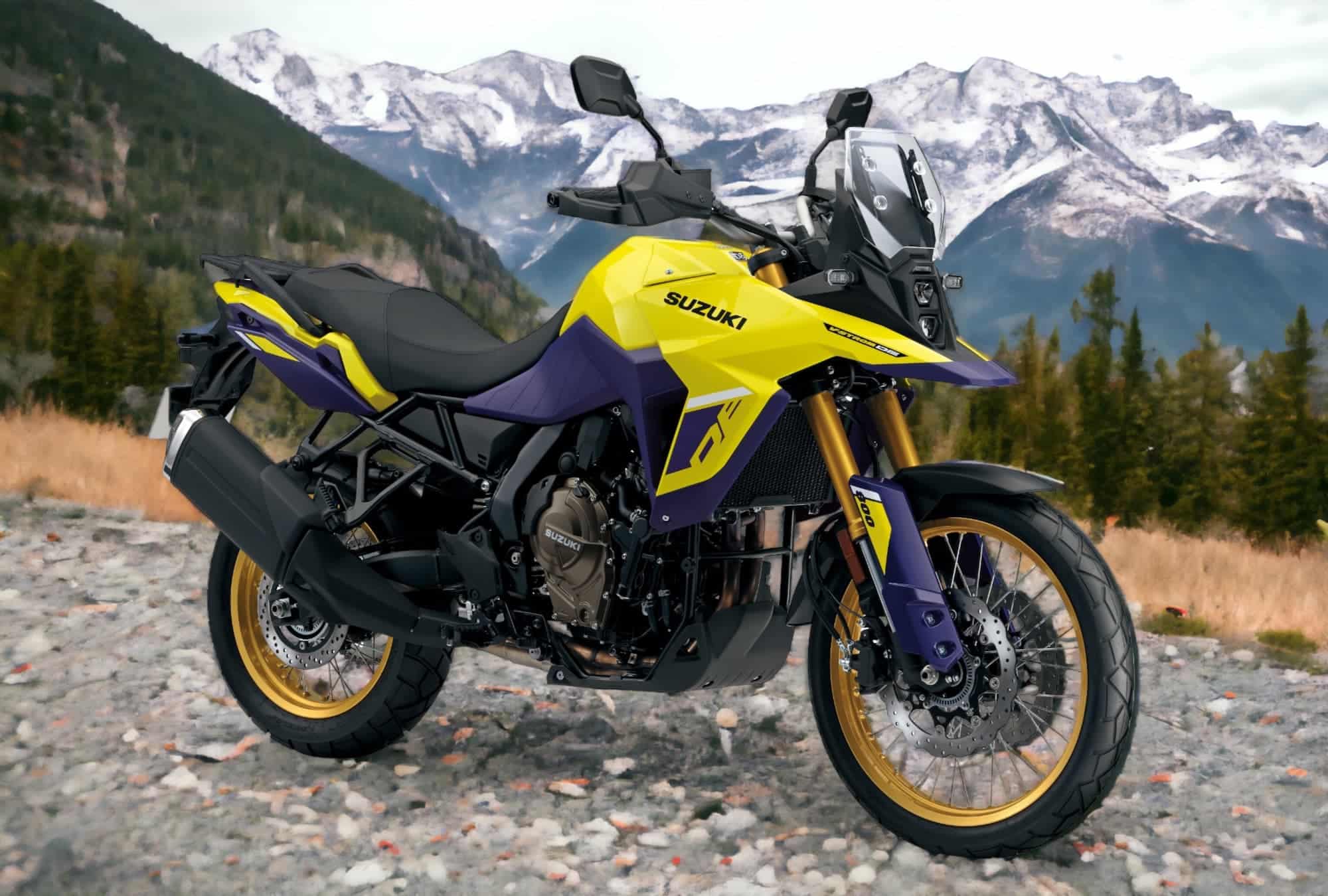 The V-Strom 800DE has longer-travel, higher-spec suspension, more protection, and the ability to partially disable ABS.
Reference — Owner's Manual for the Suzuki GSX-8S
The above information came from a mix of the owner's manual, service manual, press releases, and forum information for the GSX-8S.
Below you can see some screenshots from the GSX-8S's manual.
You can also download the owner's manual from here: Link.