This is a series of resources on the Honda Rebel 1100, including a quick start guide, maintenance schedule and maintenance tips, and other useful resources.
Honda launched the Rebel 1100 for the 2021 model year. It's a big sibling to the Honda Rebel 500 (CMX500), with a similar style and riding position, but an all-new chassis and a detuned engine borrowed from the Honda Africa Twin 1100.
The Rebel 1100 is powered by a 1084cc liquid-cooled single cam parallel twin with a 270-degree crank. Compared with the CRF1100L, the engine in the Rebel has a heavier flywheel, less aggressive camshafts, and overall gentler tuning. It puts out a slightly lower peak of 64 kw (86 hp).
The schedule applies equally to newer models released, like the 2023 Honda Rebel 1100T with a mini touring fairing and hard cases.
I compile information like this on motorcycles to help current and prospective motorcycle owners (including myself!) get ready for inspections, test rides, buying, and ownership. Below you can find information on the maintenance schedule and service intervals, as well as parts you need for a standard service, guidelines for basic services like oil changes, drivetrain maintenance, and maintenance torque specs.
Note: Motofomo is reader-supported. If you buy some of the products that we link to, we may earn an affiliate commission, which otherwise goes to the marketplace (e.g. Amazon).
Are you obsessed with motorcycles?
Well, I am. That's why I created this site — as an outlet. I love learning and sharing what others might find useful. If you like what you read here, and you're a fraction as obsessed as I am, you might like to know when I've published more. (Check the latest for an idea of what you'll see.)
About the Honda Rebel 1100
For decades, "Honda Rebel" was a reference to the Rebel 250, an entry-level cruiser that has been many a new rider's first motorcycle.
Honda has made cruisers for a very long time, and of all sizes. Most of Honda's cruisers were V-twins in the past, though they've also flirted with V4s, parallel twins, flat sixes, and even singles (like in the contemporaneous Honda Rebel 300). The Rebel 250 was a parallel twin, itself an oddity in the cruiser world.
People bought Honda Rebels used, crashed them, crashed them a few more times, repaired them, and sold them. This was what Honda Rebels were synonymous with — ubiquity, indestructibility, and ease of riding.
But in the late 2010s Honda introduced a new class of rebels. They dramatically updated the styling on the original, and released the Rebel 300 and Rebel 500. These are still entry-level motorcycle — they comply with learner schemes (like A2 and LAMS) world wide.
The Rebel 500, with its perky parallel twin, has broader appeal. It can take you beyond an indicated 100 mph / 160 km/h, if you're patient. But it's still a low-power, low-spec motorcycle in the scheme of things.
Enter the Honda Rebel 1100.
The Honda Rebel 1100 is a fresh take on the Rebel brand, and cruisers in general. Honda comes up with interesting motorcycles every now and then, and the Rebel is its latest attempt.
In terms of style, the Rebel 1100 looks a lot like the 500. It's a bit bigger. But it's when you look at the details, like the screen, switchgear, and of course the size of the engine, you realise something else is going on.
There are a few things that make the Honda Rebel 1100 unique in the cruiser world.
Riding Position: Despite its cruiser tag, the Honda Rebel has an upright riding position, with a pleasant bend in the knees. The controls are mid controls, rather than forward pegs. This means that you're comfortable, but you can still use your legs to absorb bumps when needed.
Lean angle: The Rebel can actually lean. Compared to other cruisers, the Rebel 1100 boasts a significant 35-degree max lean angle, overshadowing even the sporty Indian Scout's 29 degrees. It takes significantly more aggressive riding to scrape the Rebel.
Transmission: The Rebel 1100 has an optional DCT (Dual Clutch Transmission) — a responsive automatic transmission that is almost singularly attributed to Honda, with only MV Agusta posing competition with a few of its models (and no cruisers).
Engine: The Honda Rebel 1100 has a parallel twin engine with a 270-degree crankshaft. This is very rare among cruisers — only the Triumph Bonneville Bobber and Speedmaster can compare.
Weight & Control: The Rebel 1100's weight is competitive, aligning it with "standard" or "commuter" categories. The manual variant weighs 221 kg wet, whereas the DCT model stands at 231kg. This is very light for a cruiser!
Unique Features: The Rebel 1100 comes with cruise control and optional fairing for a smoother highway experience.
Pricing: In the US, the pricing is highly competitive, with the manual model priced at $9,299 and the DCT at $9,999. Although international prices may vary, they are relatively accessible.
Honda modified heart of the Rebel 1100, its 1084 cc parallel twin engine, extensively from the way it is in the Africa Twin. Honda increased the flywheel weight, altered the valve timings, and tweaked the intake and exhaust. The resulting engine delivers consistent torque from a low 2500 rpm to the 8000 rpm peak.
However, a couple of areas might invite scrutiny. The Rebel 1100's suspension is fairly basic, with only preload adjustability at the rear. Also, while the single-unit tachometer and speedometer shows you what you need, comparisons with the larger TFT-screened competitors (including other motorcycles within the Honda 1100 class) are inevitable.
For those with a penchant for sport-touring chassis paired with similar engine mechanics, the Honda NT1100 could be the ideal alternative, complete with fairings and luggage provisions.
Honda Rebel 1100 Specifications
Here are the core specifications for the Honda Rebel 1100, along with some notes.
| Item | Specs | Notes |
| --- | --- | --- |
| Engine type | Parallel twin, 270-degree crankshaft, 8-valve, Unicam | Unicam is Honda's SOHC design |
| Capacity | 1084 cc | |
| Bore x stroke (mm) | 92 x 81.5 mm | |
| Compression ratio | 10.1:1 | |
| Peak power | 64 kW / 87 CV @ 7000 rpm | |
| Peak torque | 98 Nm / 72 lb-ft @ 4750 rpm | |
| Transmission | 6-speed or DCT | |
| Front suspension | 43mm fork | |
| Rear suspension | Twin Showa shocks, adjustable preload | |
| Front brakes | 1 x 330 mm disc, radial-mounted 4-piston caliper | |
| Wet weight | 231 kg / 509 lb | With a full tank of gas |
| Ride aids | ABS, TC, Ride modes | No cornering ABS |
Honda Rebel 1100 specs
Using the Honda Rebel 1100 Screen and Controls
When assessing any motorcycle, I like to have an overview of the interface and the important controls — things like cruise control, rider aids, and adjusting rider settings.
The Honda Rebel 1100 comes with ride modes, and adjustable traction control. And if you get optional DCT, there's that as well.
To change riding mode, you use the left hand switch gear. There are three preset riding modes plus a user-configurable one.
Press the mode button to choose the item to modify, including riding mode, or two information pages.
You can only change the riding mode when the vehicle is stopped.
When in riding mode selection mode, use the up and down toggles to choose the riding mode.
Mode
[P]ower level
(Low, Med, High)
[T]orque control
(Traction control)
(Off, Low, Med, High)
[E]ngine brake control
(Low, Med, High)
[D]CT aggressiveness
(DCT model)
(Low, Med, High)
Sport
High
Low
Medium
High
Standard
Medium
Medium
Medium
Medium
Rain
Low
High
Low
Low
User
Custom
Custom
Custom
Custom
Honda Rebel 1100 riding modes
In the first information page, you can use the up and down toggle to show
Odometer
Current fuel mileage
Elapsed time
Range
In the second information page, you can use the up and down toggle to choose to show
Trip A distance
Average fuel mileage in trip A
Average speed in Trip A
Trip B distance
Average fuel mileage in trip B
Average speed in Trip B
Press mode when you're done to confirm.
To operate DCT, use the right switch gear.
To operate a DCT bike
Start the engine. The bike should start in Neutral (N).
Put up the side stand and make sure the throttle is closed
Press the button to shift to "D".
Go!
While riding, you can use the shift up and down toggles (left handlebar) to shift up and down, if you want.
You can also press the Automatic / Manual toggle to shift to manual transmission, and then exclusively use the toggles.
Remember — when parking the DCT bike, activate the parking brake lever on the left handlebar.
Honda Rebel 1100 — Maintenance Information
The below information came from our partner site, Maintenanceschedule.com.
Like many Honda liquid-cooled motorcycles, the Rebel 1100's general service intervals are 8000 miles / 12800 km or one year between oil changes.
Honda does recommend shorter service intervals for many items like inspecting the brakes, clutch (if non-DCT), coolant levels, etc. However, those are inspections, and may be covered by regular pre-ride inspections.
The major service for the Rebel 1100 is every 16000 miles / 25600 km, where you inspect or change the spark plugs and do the valve clearance check. Luckily the check is quite easy — the blessing of a mostly naked bike with a parallel twin engine and a single over head cam (Unicam). But you do have to remove the tank for access to the cylinder head.
At the same time, change the oil filter and the clutch oil filter (DCT).
Since the Rebel 1100 has a liquid-cooled engine, keep the coolant up to spec, replacing it every three years. Similarly, keep the brake fluid fresh, replacing it every two years.
Finally, unlike many cruisers, the Honda Rebel 1100 has a chain drive, so do keep that lubricated and in the correct tension (see details below).
One nice part of servicing motorcycles with the Unicam SOHC layout is that you only have to change shims when adjusting the intake clearances. The exhaust valve clearances can be adjusted using a traditional screw-and-locknut style adjuster. It's a minor thing, but screw and locknut adjusters are less fiddly.
Honda Rebel 1100 Maintenance Schedule
Below is a clarified version of the maintenance schedule of the maintenance schedule from the manual.
It's separated into
A daily inspection checklist
A periodic maintenance schedule, and
An annual service checklist
There are also separate sections below on chain maintenance.
Daily Inspection Checklist
This is the daily inspection checklist for the Rebel 1100. Do this before every ride.
Many of these items you'd naturally do by starting to ride, e.g. confirming that the lights, brakes, and clutch work. But you should specifically check the fluid levels periodically.
Before every ride on the Rebel 1100, check the following:
Honda Rebel 1100 — Pre-ride checklist
Tire tread and wear
Tire pressure (see below for spec)
Lights, horns, turn signals function
Drive chain condition and slack
Correct suspension for load
Throttle action is smooth and returns
Brake lever operates normally
Engine stop switch works*
Oil level is between upper and lower levels*
Brake fluid is between correct markings*
Side stand functions properly*
Parking brake works (if fitted)*
Pre-ride checklist
Items marked "*" don't have to be checked every ride.
Major Items Maintenance Schedule
Below is the service schedule of major items for the Honda Rebel 1100.
Notes:
Observe the earlier of time-based or distance-based service intervals. For example, change the oil every year regardless.
Keep following it in the pattern shown beyond the end of the maintenance schedule, every 4000 miles / 6400 km.
If you ride your motorcycle aggressively or in untoward conditions (e.g. off-road or in mud, rain, or on dirty roads, in stop-start traffic, or in cold weather without giving it time to warm up), you may have to service your bike more often.
x 1000 mi
0.6
4
8
12
16
20
24
x 1000 km
1
6.4
12.8
19.2
25.6
32
38.4
Every
Regular inspection checklist — Perform
(See below for list)
✓
✓
✓
✓
Year
Engine oil — Replace (Pro Honda GN4)
✓
✓
✓
✓
Year
Engine oil filter — Replace (HF204RC)
✓
✓
DCT models: Clutch Oil Filter — Replace (HF117)
✓
✓
Spark Plugs — Inspect
✓
Spark plugs — Replace (SILMAR8A9S)
32,000 mi (51,200 km)
Valve Clearances — Inspect / Adjust
✓
Air Cleaner — Replace
✓
✓
More often if riding in dusty / wet conditions
Brake fluid — Replace (Honda DOT 4)
2 years
Radiator Coolant — Replace (Honda Coolant)
3 years
Maintenance schedule for the Honda Rebel 1100 (CMX1100)
Regular inspection checklist
Below are the items on the regular inspection checklist for the Honda Rebel 1100. Honda suggests inspecting some components between services.
Honda Rebel 1100 Regular Inspection Checklist
Between services?
Cooling system — Inspect
Brake fluid — Inspect level (Top up with Honda DOT 4 as needed)
Yes
Radiator Coolant — Inspect level (top up with Honda coolant as needed
Fuel Lines — Inspect condition
Throttle Operation — Check smoothness, return, play
Crankcase Breather Hose — Check condition
Inspect more often if riding in rain or at full throttle
Yes
Engine Idle Speed — Check
Secondary Air Supply System — Check
Evaporative Emission Control System — Inspect (CA only)
Brake Pads — Inspect for wear
Yes
Brake System — Inspect correct function
Brake Light Switch — Inspect
Brake Lock Operation — Inspect
Yes
Headlight Aim — Inspect / Adjust
Clutch System (non-DCT) — Inspect, adjust play
(Target free play of clutch — 10-20 mm, or 3/8 to 13/16 in)
Yes
Side Stand — Inspect for smoothness / Return
Suspension — Inspect smooth operation, no damage
Nuts, Bolts, Fasteners — Inspect tightness / presence
Wheels/Tires — Inspect for damage
Steering Head Bearings — Inspect smooth operation / no notches
Maintenance schedule for the Honda Rebel 1100 (CMX1100)
Honda Rebel 1100 Drive Chain Maintenance
It's important to maintain your chain on the Rebel 1100, as on any chain-driven motorcycle, even if the Rebel 1100 is a more relaxed "cruiser" that you're less likely to belt like a sport bike.
Use a good-quality chain lubricant like Motul chain paste, or a Motul chain care kit which comes with a couple of handy tools to maintain the chain.
Honda recommends you follow the following chain maintenance schedule:
Chain maintenance item
Every
Check drive chain lubrication condition, lubricating if necessary
600 mi / 1000 km
Check drive chain slack, adjusting if necessary
Target chain slack: 15-25 mm (9/16-1 inch)
600 mi / 1000 km
Chain maintenance — Honda Rebel 1100
Notes:
Do these items (checking/adjusting slack, and checking/applying lubrication) more often if you ride your Rebel 1100 in dusty or rainy conditions.
Always lubricate the chain after washing the motorcycle.
To measure drive chain slack on the Honda Rebel 1100 motorcycles, measure the free vertical movement of the chain midway between the sprockets.
You need to measure it with the transmission in neutral, with the bike on a level surface on a kickstand, and with no luggage (or empty cases).
If the slack is out of spec, you need to adjust it by loosening the rear axle and the locknuts, using the slack adjusters on both sides of the axle (evenly, paying attention to the markings), and then re-tightening the axle when you're done.
Tire Sizes and Pressures
The Honda Rebel 1100 has the following tyre sizes and pressures. It runs tubeless tires and ships with Dunlop D428 tires.
The Honda Rebel 1100 has the same recommended tyre pressure front and rear, unlike many sport bikes.
| Wheel | Tyre size | Tyre pressure (cold) |
| --- | --- | --- |
| Front | 130/70B18M/C 63H | 33 psi (225 kPa, 2.25 bar) |
| Rear | 180/65B16M/C 81H | 33 psi (225 kPa, 2.25 bar) |
Tire sizes and pressures for the Honda Rebel 1100
Tightening Torque specs
These are the tightening torque specs relevant for maintenance of the Rebel 1100. These come from the service manual, which was shared on Reddit here.
| Item | Qty | Thread (mm) | Nm | lbf-ft | Remarks |
| --- | --- | --- | --- | --- | --- |
| Air cleaner element mounting screw | 4 | 5 | 1.1 | 0.8 | Tapping screw |
| Air cleaner cover screw | 6 | 5 | 1.1 | 0.8 | Tapping screw |
| Spark plugs | 4 | 10 | 22 | 16 | |
| Valve adjusting screw lock nut | 4 | 5 | 10 | 7 | Apply engine oil to threads and seating surface |
| Timing hole cap | 1 | 14 | 6 | 4.4 | Apply grease to the threads |
| Crankshaft hole cap | 1 | 30 | 8 | 5.9 | Apply grease to the threads |
| Engine oil drain bolt | 2 | 12 | 30 | 22 | |
| Oil filter boss (crankcase side) | 1 | 20 | – | – | Apply locking agent to the threads |
| Engine oil filter cartridge | 1 | 20 | 26 | 19 | Apply engine oil to the threads |
| Clutch oil filter cover bolt (DCT) | 2 | 6 | 12 | 9 | |
| Rear axle nut | 1 | 18 | 100 | 74 | Self locking nut |
| Drive chain adjuster lock nut | 2 | 10 | 21 | 15 | |
| Drive sprocket bolt | 1 | 10 | 54 | 40 | |
| Driven sprocket nut | 5 | 12 | 108 | 79 | Self locking nut |
| Parking brake adjuster lock nut (DCT) | 1 | 8 | 17 | 13 | |
| Clutch cable lock nut | 1 | 8 | 8.5 | 6.3 | |
Honda Rebel 1100 Tightening Torque Specs
Alternatives to the Honda Rebel 1100
The Honda Rebel 1100 is a middleweight cruiser. It has only a little competition, but it's a popular segment anyway!
Below are the middleweight cruisers currently available.
Honda Rebel 1100
The Honda Rebel 1100 (2021+) is a middleweight cruiser with the parallel twin engine from the Africa Twin 1100, but tuned for more midrange. It's an unusual cruiser in that it's modestly lightweight (definitely so for a cruiser), has a mid-mount leg position, comes standard with cruise control, and even has an optional dual clutch transition for automatic shifting, or race-style paddle shifting if you want.
Indian Scout (Bobber, Rogue, Twenty)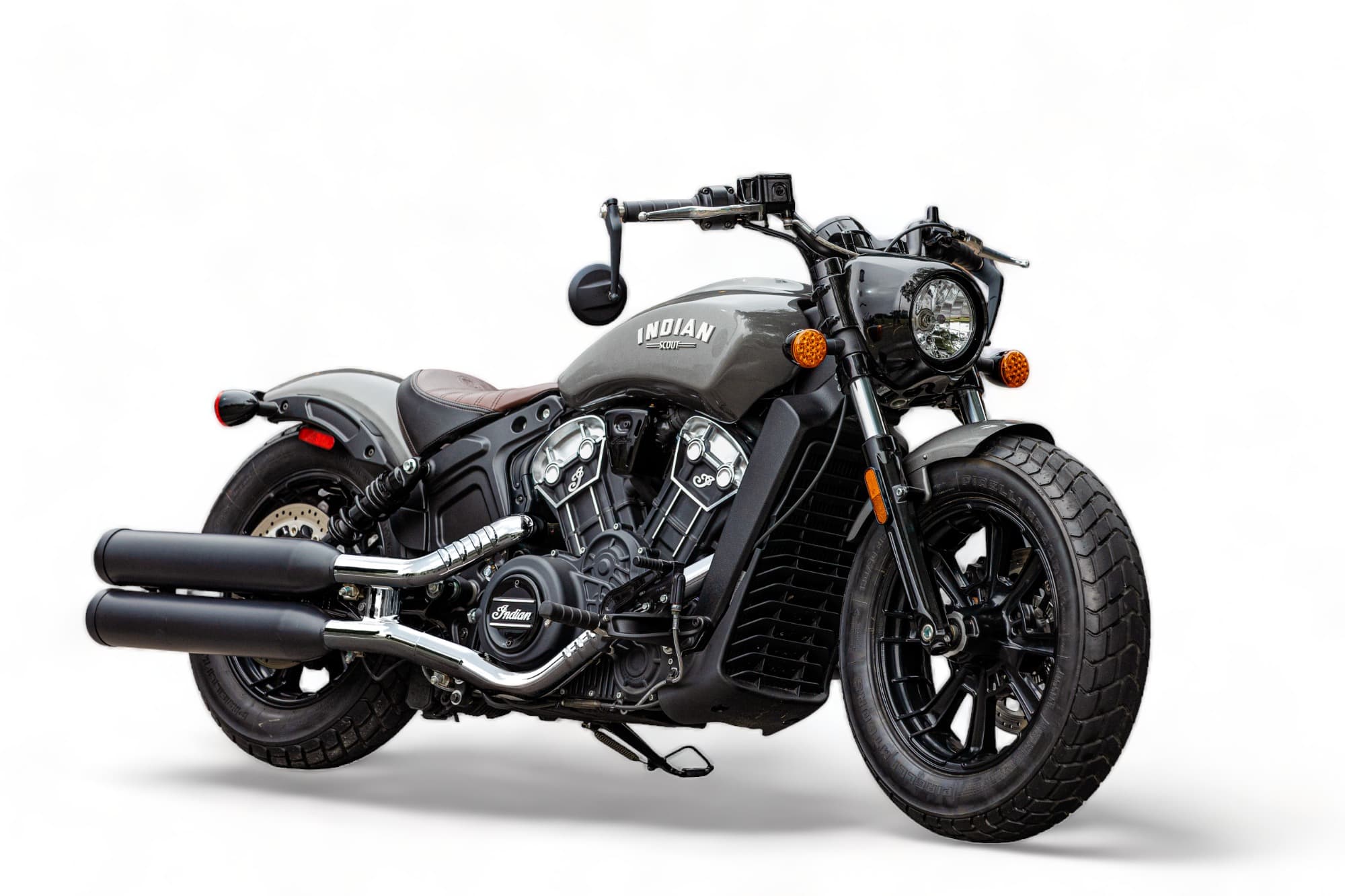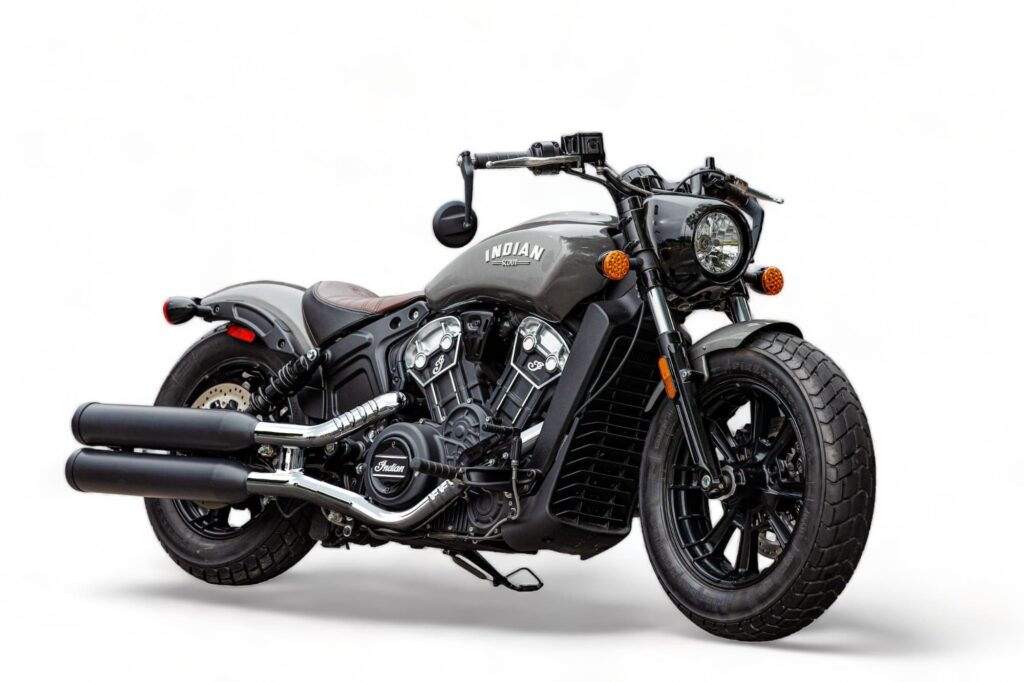 The Indian Scout range, which includes the Indian Scout Bobber and a few other variants, is an attractive middleweight cruiser from Indian. It has a sparkling liquid-cooled engine, a stylish low profile, and rumbling performance from its surprisingly peppy engine. See here for the Indian Scout model guide.
Harley-Davidson Nightster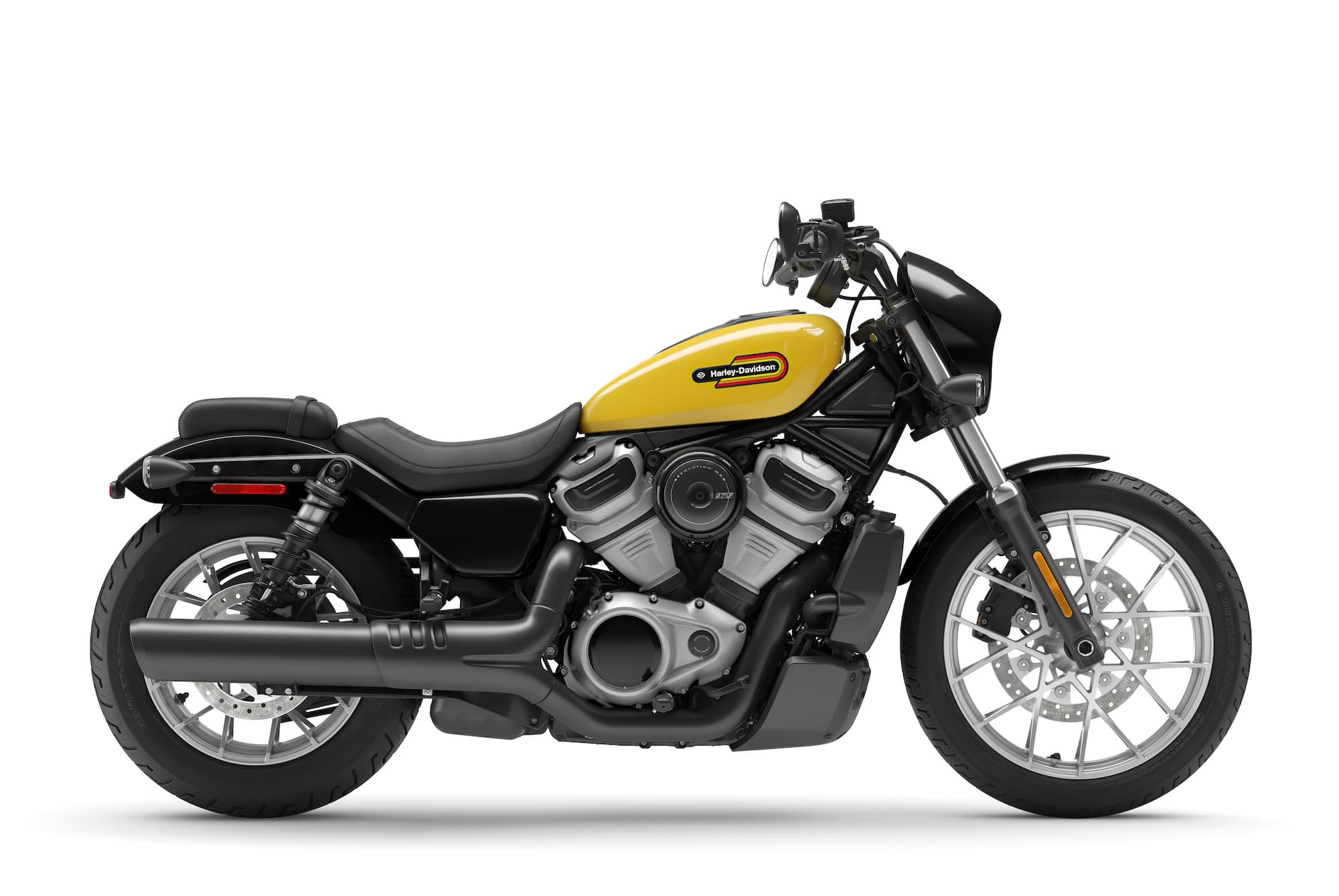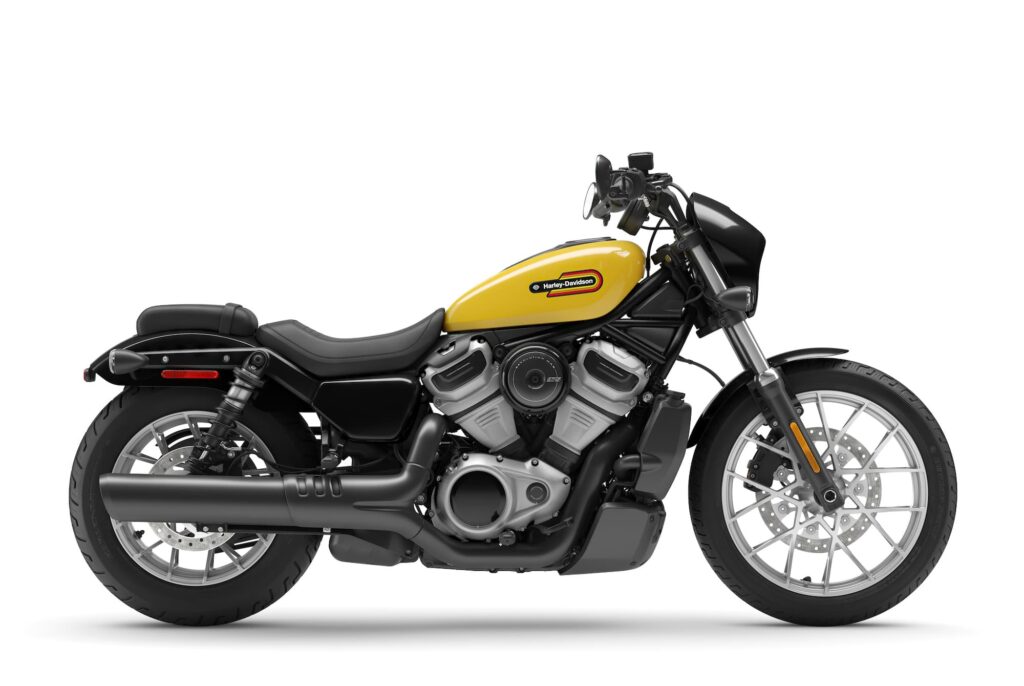 The Harley-Davidson Nightster is an entry-level middleweight motorcycle from the brand more known for big burly air-cooled engines. The RH975 motor is part of Harley-Davidson's growing liquid-cooled Revolution Max line, with an engine in the same family as that of the Sportster S and the Pan America. The RH975's motor makes peak power of 67 kW / 90 hp at 7500 rpm. The rest of the bike is pretty basic trim — a single disc, conventional non-adjustable fork, basic ride aids, and so on. See here for more about the Harley-Davidson Nightster.
Yamaha Bolt
The Yamaha Bolt is an old-school cruiser going after the Harley-Davidson Sportster 883. It's powered by a 942 cc air-cooled 60-degree V-twin, and puts 38 kW / 53 hp at 5500 rpm down via a five speed transmission and belt drive. It has a neutral, mid-control riding position. That's about all there is too it. See more about the Yamaha Bolt here.
Royal Enfield Super Meteor 650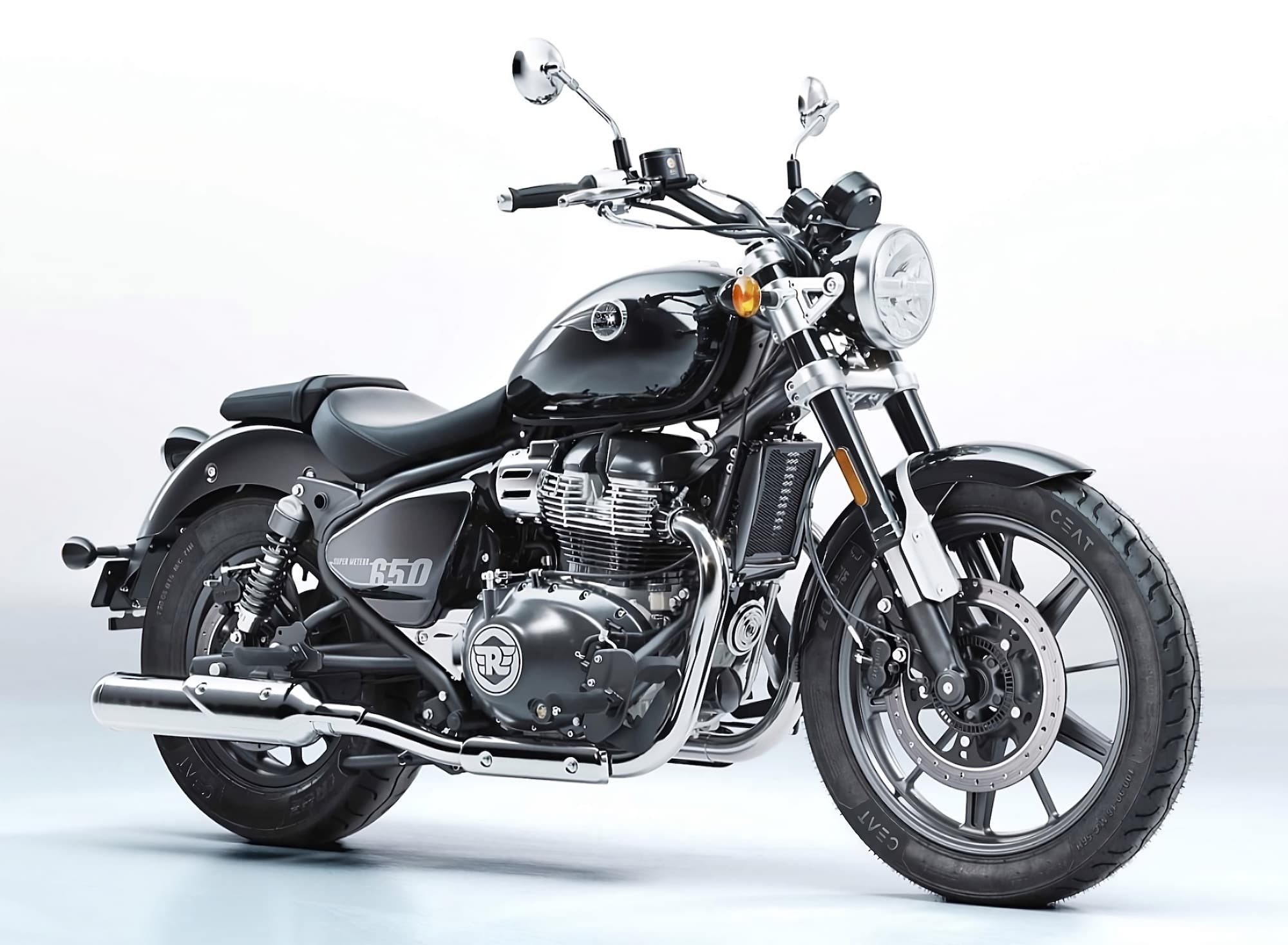 Royal Enfield introduced the Super Meteor 650 for 2023. It's based on the same parallel twin platform as the Interceptor 650 and Continental GT 650, but has a feet-forward riding position and those classic cruiser good looks. Like the other 650 twins, the Super Meteor 650 is a very simple motorcycle, with an air/oil-cooled 648 cc P-twin that makes learner-legal power in any jurisdiction. Final drive is via a 6-speed transmission and a chain.
Other Related Motorcycles
If you're interested in the Honda Rebel 1100, you may also be considering other motorcycles that share the same 1100 motor. Here are all of them below (including the Rebel 1100).
Honda CRF1100L Africa Twin
The CRF1100 Africa Twin was the first Honda motorcycle to use the big parallel twin. It was the successor to the CRF1000L Africa Twin, which was a huge hit. The CRF1100L is an on/off-road focused adventure motorcycle that competes in the "big" adventure tourer class, with a 21-inch spoked front wheel, chain drive, and a host of rider aids.
Honda Rebel 1100
The Honda Rebel 1100 (2021+) is the second motorcycle to use the big parallel twin first seen in the Africa Twin. The Rebel 1100 is a cruiser, unique in the market for its combination of mid controls for a neutral riding position, standard cruise control, and a chain drive. The Rebel 1100 lacks an IMU (that is standard on the Africa Twin), but is nonetheless an advanced, lightweight, sporty cruiser.
Honda NT1100
The Honda NT1100 (2022+) is a sport-touring motorcycle that uses the big parallel twin first used in the CRF1100L Africa Twin. It has a relaxed but sporty riding position, an adjustable screen, and excellent weather protection. It lacks the IMU of the Africa Twin (not to say its off-road ability) and the cool factor of the Rebel, but for on-road touring, it's likely to be the most practical choice.
Reference — Owner's Manual for the Honda Rebel 1100 / CMX 1100
The above information came from a mix of the owner's manual, service manual, press releases, and forum information for the Honda Rebel 1100 in the years since its release.
Below you can see some screenshots from the owner's manual from 2023. The information is the same as in previous model years.
You can also download the owner's manual from here: Link.